Mum's plea to find daughter's lost toy has everyone reaching out to help
4 April 2018, 14:46 | Updated: 7 June 2018, 17:00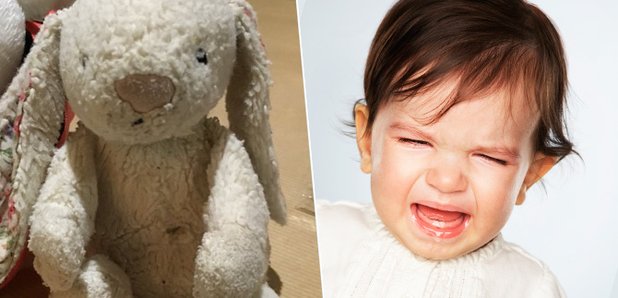 Twitter users have been on the hunt to find a little girl's favourite toy after she realised she'd left it on the tube.
Gemma Broxup has caused a stir after crying out for help on social media to reunite her daughter with the adorable stuffed bunny she's had since birth.
Beloved cuddly toy which my daughter has had from birth lost on tube tonight between 8-9 pm either jubilee or central line please help find for my 5 year old who is distraught @TfL pic.twitter.com/NNlnLlRQ50

— Gemma Broxup (@GBR0X) April 3, 2018
According to the distraught mother, her 5-year-old daughter was left "in tears" when she discovered the rabbit was missing and is hoping her urgent plea will help to locate the toy.
"He was a gift when she was born," Broxup told Metro of the toy's sentimental value. "She has him every night in bed and he has been in [the] hospital with her when she had scarlet fever."
The news has struck a chord with Twitter users who have been retweeting and sharing the picture, helping to send the tweet viral.
Come on Londoners. Let's find it.

— Inspector Andy Stuart (@ci_stuart) April 4, 2018
I'm 21 and would be distraught if i lost the teddy I've had since birth :( hope he's found https://t.co/zcM33BJrWF
— em (@emmaaclaire) April 4, 2018

It seems as though the search has also prompted other users to share their tragic experiences of losing toys as a child.
My daughter lost her beloved Garfield toy when she had a hospital stay - we waited a week, then I reluctantly went out to buy another one - when I got up to her hospital room with it, the old one was back - it had had a trip to the laundry.

— Coalition Tea Lady (@ItsBouquet) April 4, 2018
I hope you find it..I had my Larry the lamb until my husband sold the wardrobe with him in it..I never forgave him and is probably one of the long list of reasons why I divorced him x

— Theresa Fitton (@FittonTheresa) April 4, 2018
We once lost my daughter's bunny at Disneyland and it was returned. If any mom sees it, she will guard it with her own life. Have faith.

— Laura Slobin (@lauraslobin) April 4, 2018
The transportation authorities have been notified of the missing toy but despite everyone's efforts, it's yet to be found.