Devoted mum paints birthmark on to her face to match her son's
21 May 2018, 17:33 | Updated: 7 June 2018, 17:00
Carolina Giraldelli is determined for her son to grow up being proud of his unusual birthmark - and to never hide it away.
Enzo Cestari, one, was born with a dark birthmark covering most of his forehead and stretching down one side of his nose - but to his parents he is perfect.
To celebrate his uniqueness, mum Carolina, 26, asked a make-up artist to replicate his birthmark on her own face... and the tot was thrilled.
But there was a deeper meaning to her act of unity, she wanted to spend the day walking in his shoes so that she could better understand the prejudice her son faces.
Proud Carolina said: "I confess that for some time it was very difficult to see and feel the eyes of society flickering my son with looks of pity, contempt, scare and sometimes disgust.
"But even though it is not easy, my husband and I act normally and we will always show him as he is.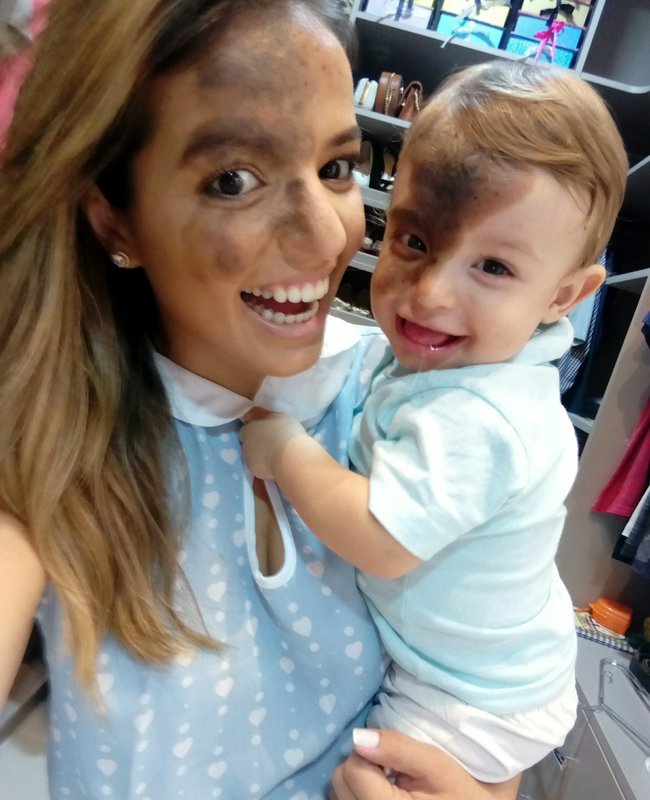 Carolina and little Enzo, who loved his mum's matching 'birthmark' (Image: SWNS)
"If someone feels revulsion, curiosity or fear, we try to make him understand that he, despite his mark, is a normal boy who is much loved, just like others.
"I have never treated him as different - I see him as a normal baby and I want to show him to everyone.
"I love his birthmark so much; so much so that I wanted, at least for a moment, to have that mark on me too.
"I wanted to show Enzo this love so I asked my friend who is a makeup artist to create exactly the same look that Enzo has on my face.
"The make-up and photos were held close to Mother's Day here, to honour Enzo who is the greatest gift of God that I could ever receive.
"After the make up was complete I was very moved because I felt like the most beautiful woman in the world.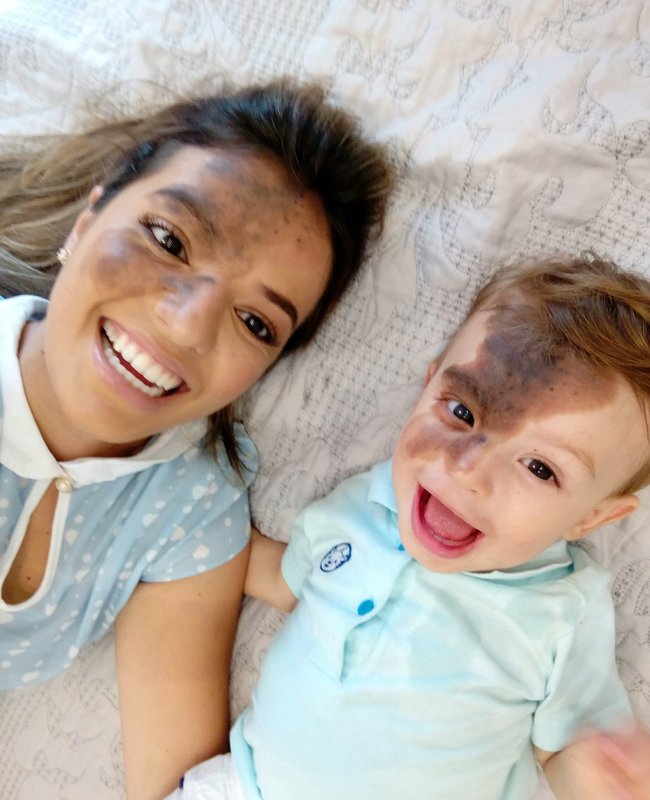 Carolina wanted to experience the discrimination her son has to deal with every day (Image: SWNS)
"When I got home, Enzo's reaction was complete joy - even though he did not completely understand.
"I'm sure he loved my attitude. We took lots of pictures and our morning was a lot of fun.
"After the photos I went to work with the makeup on.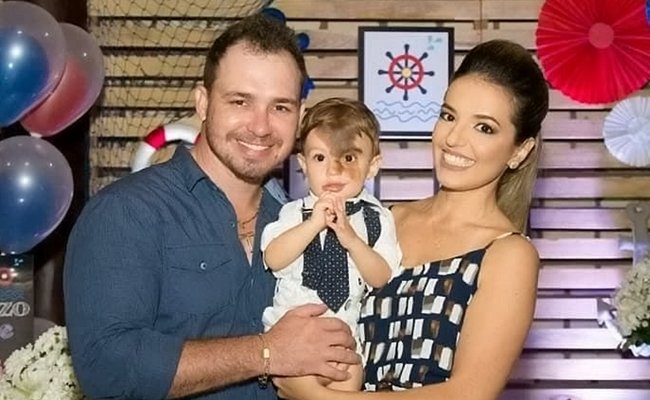 Enzo with mum Carolina and dad João Renato Cestari (Image: SWNS)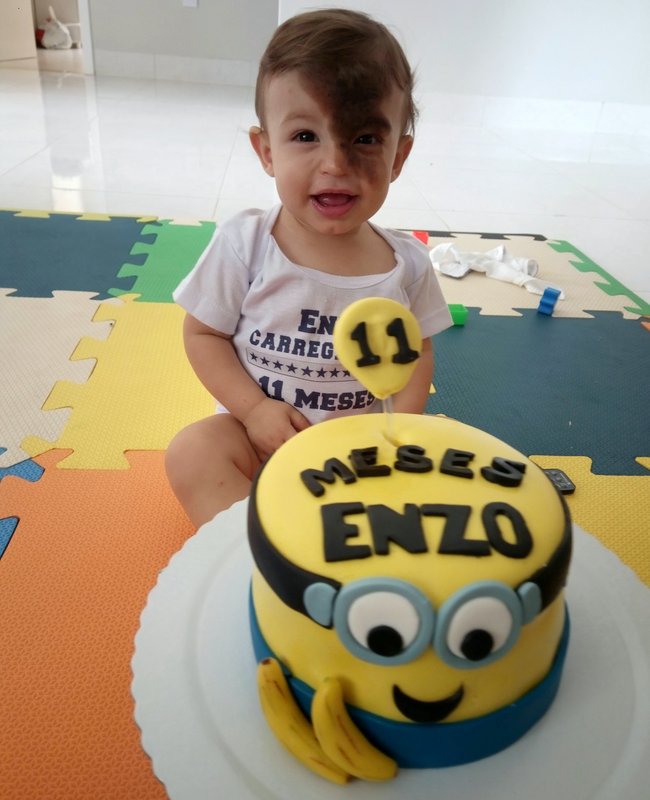 Enzo with a cake celebrating his 11-months 'birthday' (Image: SWNS)
"Several people looked at me with many different looks, but I was very calm because I felt like the most proud mother in the world.
"I kept the make up on until I went to bed that night, but how I felt has stayed with me every since."
Enzo was born in May 2017 via c-section after a scan revealed his umbilical cord was wrapped around his neck twice.
Carolina said she first realised something was different about her son due to the "frightened" looks on the medics' faces.
She said initially she thought it was a "little bit of dirt" but said even when she realised it was a large birthmark, she was just grateful he was born healthy and crying.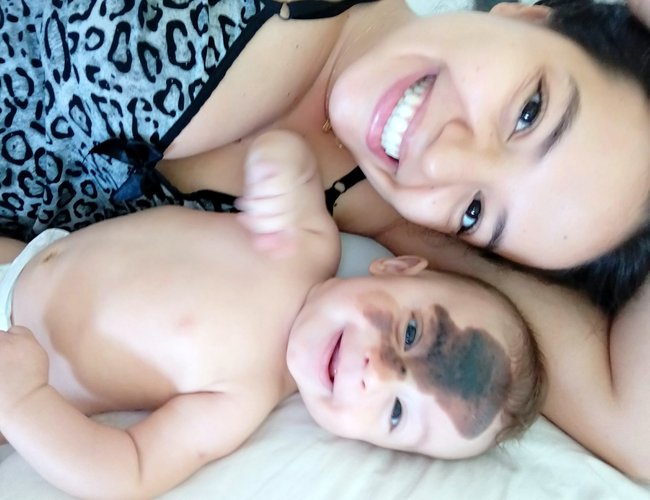 Carolina will make sure Enzo always knows he is perfect just as he is (Image: SWNS)
"I decided that from then on I should become another person who was much stronger, fearless, brave, and ready to face all the obstacles that would now be presented to my son," said Carolina, from Cáceres, Brazil.
When he was just five-days-old Enzo had to undergo surgery to check the birthmark - medically referred to as a Congenital Melanocytic Nevi - was harmless.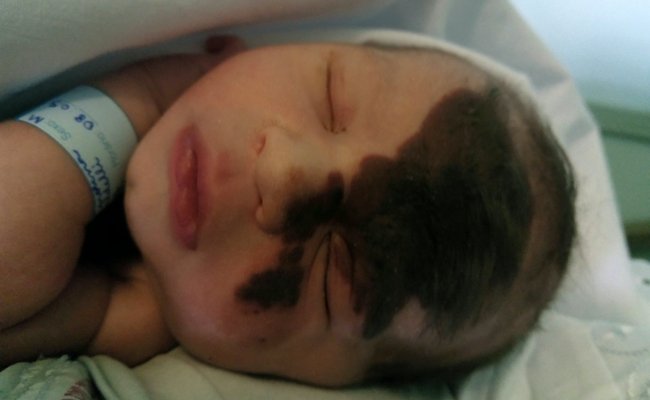 Enzo as a baby after a dramatic C-section birth (Image: SWNS)
Carolina said: "The result arrived and we could verify that the spots were only, in a colloquial sense, nothing more than like paint on his face."
The good news prompted her to arrange a photoshoot with the help of a make-up artist friend.
She added that the results made other people's hearts soar, not on her own.
"The words of comfort, encouragement and the wonderful comments were so many that my emotions just took over," she said.
"I believe countless mothers had these same feelings when they saw the picture with my son."