This mum reveals why she's proud to be called a bad parent
4 April 2018, 12:24 | Updated: 7 June 2018, 17:00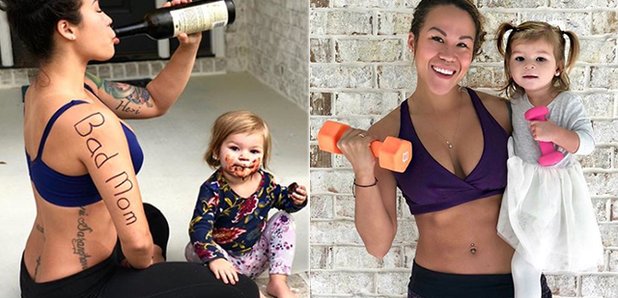 She's been criticised for her lifestyle, but has embraced the negativity.
A mum has gone viral after claiming she is proud to be a 'bad parent.'
Sia Cooper, an American fitness blogger and mother of two, is tired of being criticised for her lifestyle and has listed every reason that she's ever been regarded as a bad parent.
She explained to Metro: "I was inspired to write the bad mum post after feeling exhausted from all the negative, judgemental mums (and non mums) who troll me for every parental decision that I make. So I wanted to rise back up against the haters and support all "bad mums", supporting their way of parenting though it may be different than mine or anyone else's. It doesn't mean it's wrong!
Sia's posted the extensive list on her Instagram page, which read:"I've been called a bad mom for:
Workout out during pregnancy.
Working out while having kids... period.
For caring about my looks and health.
Working out in Target.
Using canned goods and plastic crockpot liners.
Having tattoos and piercings.
Enjoying wine every now and then.
For letting my kids use technology.
For letting my kids have sugar and happy meals occasionally.
For not "covering up" around my kids.
For running a full time business from home.
For co-sleeping with my kids.
For collecting sports cars and motorcycles aka having a hobby.
For taking time for myself.
For having abs."
Sia runs her own business, Diary of a Fit Mommy, which encourages mums to get in shape whilst juggling the responsibilities that parenthood brings.
After her powerful post, Sia received a huge amount of support from many of her 926,000 Instagram followers.
One wrote: "Guess I'm a bad mom too thanks for the inspiration!!", whilst another put: "Love love love, thank you for addressing this!!!"
Parenting techniques are constantly becoming more and more scrutinised, with many mums feel they can't do right for doing wrong. Sia ended her rant by simply putting: "Being a mom isn't easy and there is no wrong way to parent IF your kids are loved, healthy, and being taken care of. Am I right?"
Right?
WATCH! Mother of triplets needs 'military regime' to cope with them: