Mum shares genius hack for washing baby clothes
20 June 2018, 12:36 | Updated: 21 June 2018, 12:17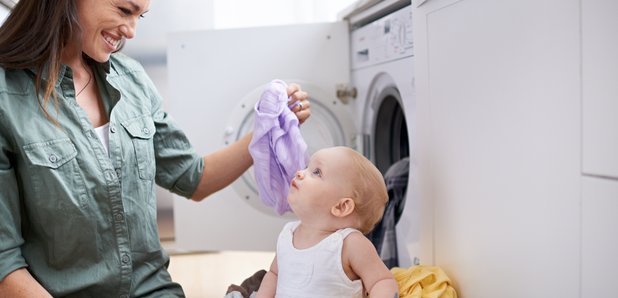 This laundry hanging method can make all the difference!
Hanging your kids clothes out to dry isn't the most riveting of tasks, especially when you run out of pegs.
BUT, thanks to one mum's genius discovery, things might get a little easier going forward.
Posting the trick to the Nubs & Bumps Facebook page, she demonstrated that you can simply hang baby's onesie's by putting them upside down and clipping them over the clothing rack with its own clips.
No pegs needed at all!
Alongside the picture of neatly hung onesies, she wrote: "Omg why did no one tell me about this hack sooner!".
The post has since racked up 55,000 comments and 16,000 likes with many mums praising the idea. Some questioned how time consuming the hack would take, with one mum writing. "Omg! How long would it take to button up all those press studs! No sleep deprived mummy / daddy is doing this..."
Meanwhile, another explained that the method doesn't need to stop at onesies, writing: "I've been doing this for ages. I also do this with other clothing items that have similar fastening ie dungarees, rompers, baby dresses, even bras."
Happy laundering!
Watch more: