Anyone who wonders what parenthood is really like should watch this video
10 April 2018, 11:36 | Updated: 7 June 2018, 17:00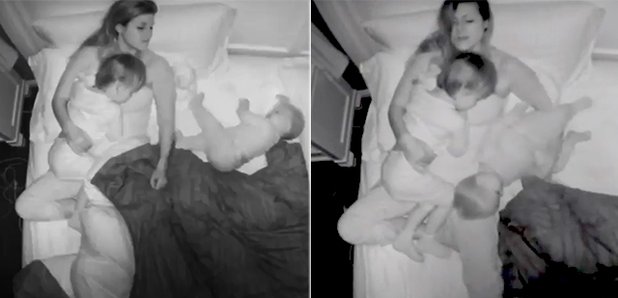 Warning - watching this will make you feel really, really tired.
A mum's video of her restless night trying to settle her children has rung true with parents everywhere:
Melanie Darnell, who is a fitness blogger and mum to three children, posted a video on her Instagram page, revealing of a night devoid of sleep as two of her tots wriggle and writhe in her bed all night long.
The time-lapse shows the hours passing, with no sleep being had by mother or child.
Melanie added a lengthy caption, which started with a strong statement: "Parenting doesn't end when the sun goes down."
The video starts with the super mum seeming to get all of an hour's peace before one of her children begins to wail, and she promptly plucks them from their room and makes space in her own bed. Soon after, her toddler decides to want to be in on the sleepover, and hops in too. The rest of the night is a fit of tossing and turning as no-one is able to drift off.
Understandably, the exhaustion that comes from being a mother can create feelings of isolation, but Melanie hopes that her video will resonate with others who face the same bedtime struggles.
Her caption continued: "During these moments let's think of all of the other parents that are up with their babies at the very same middle-of-the night moment and take comfort in the thought of each of us cradling our babies in the dark of our homes, together in shared experience. Rather than feeling isolated and exhausted, we can feel connected to the other tired mothers that are also awake."
The video seems to have struck a chord with other exhausted parents, as it has racked up over 1.4miliion views, with many adding their comments alongside the post. One user wrote: "Omgosh I feel like I'm watching a video of myself lol", whilst another put: "Can so relate hunny!"
Next time you see an exhausted parent, it's time to do a coffee dash!