Mumsnet terminology explained: What does AIBU, DD and SO mean?
30 July 2018, 15:10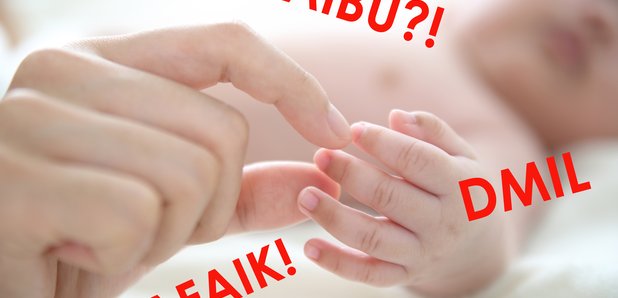 Ever got stuck on parenting site Mumsnet wondering what on earth all the acronyms mean?
If you're a parent - be it mum or dad, granny or grandad - you have probably heard of parenting website, Mumsnet.
The online forum allows mums to ask for advice, vent frustrations and console other mums who are in crisis.
One unique part of the way the site is used are the frequent acronyms that pop up in various messaged across its many forum pages including AIBU, SO and DD to name a few.
Here's a list of some of the most commonly used acronyms that might leave you stumped during a visit to Mumsnet...
AIBU
Am I being unreasonable
AFAIK
As far as I know
BC
Before children
BIL
Brother in law
BM
Birth mother
Boak
Not an acronym! Instead, a word used to describe a vomit-worthy moment.
Bump
Not an acronym! And not the baby kind either. People comment the word bump on a unactive thread to boost it up to the top of the page and get people discussing it again,
DA
Domestic abuse
DD or DS or DH
Darling daughter or darling son or darling husband
Picture: Getty
DLA
Disability living allowance
D&V
Diarrhoea and vomiting
EA
Emotional abuse
EBF
Exclusively breast feeding
FTFY
Fixed this for you
FIL and MIL
Father in law and mother in law
FWIW
For what it's worth
HTH
Hope this helps
IIRC
If I remember correctly
IMHO
In my humble opinion
IYKWIM
If you know what I mean
MC
Miscarriage
NAK
Nursing at keyboard
OTOH
On the other hand
Picture: Getty
PFB
Precious first born
PM
Private message
SAHM
Stay at home mother
SENCO
Special educational needs co-ordination
STBXH
Soon to be ex-husband
VBAC
Vaginal birth after c-section
WAHM
Working at home mother
YANBI
You are not being unreasonable