This Unusual Parenting Hack Sends Crying Baby To Sleep In SECONDS...
3 November 2017, 13:20 | Updated: 7 June 2018, 17:00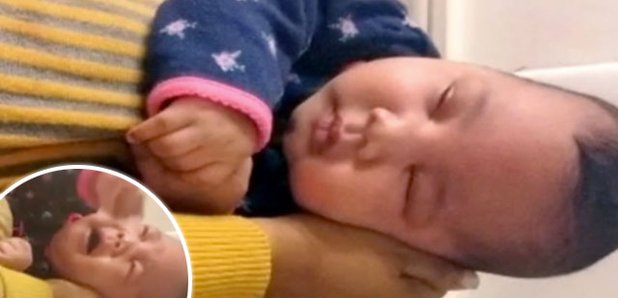 If your baby loves a good cry, this one's just for you
Settling a crying baby can no doubt require some thinking outside of the box from time to time.
So luckily for all the parents out there, a nurse named Lauren Session from Michigan has kindly shared her handy trick for soothing a crying baby - and it's an absolute doddle!
Sharing her video to Facebook, Lauren can be seen getting her three-week-old crying baby A'Mire to sleep by simply rocking her near the sound of a running tap.
Soothed by the white noise of the running water, baby A'Mire drifts off to the land of nod in moments.
Lauren who also has a 4 year old, explained:
"I had tried numerous of things but nothing seemed to work.
"I then remembered when my [other] daughter was a baby and had a fussy moment, I would go into the bathroom and run the bathtub water and that would soothe her.
"I went into my bathroom and turned on the sink and placed her in a football position and just rocked her and to my surprised it worked!"
Since posting the vid, Lauren has received masses of praise from parents who are completely mind blown over how well it works.
Lauren added: "It's crazy, I would have never thought it would hit over three million views and over 500 friend requests and thousands of likes and shares."
Happy tap running!
Watch more: