9 Hilarious Parenting Tweets Parents Will Totally Understand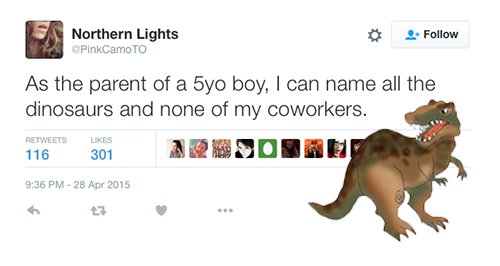 We all know that being a parent is one of the most fulfilling things you can ever do.
And we also know that sometimes we really can't remember why we wanted children.
Some parents have taken to Twitter to share their stories of parenthood, using the #funnyparents. And the results are truly hilarious! We dare you to read this without cracking up.
When the internet is the source of all revenge...
My 14yo made fun of me this morning because I had to go to work while he had a snow day, so I changed the wifi password.

— Rock (@TheMichaelRock) February 9, 2016
Because there aren't any calories in someone else's chocolate:
Currently helping my son search for his chocolate that I ate last night.

— Mickey (@Hypercraxy) September 24, 2015
Some parents are truly evil:
Me: goodnight kids

Kids: goodnight dad

Me: goodnight monster that eats children who are bad

Wife: [through radio under the bed] GOODNIGHT

— Nathan Usher (@thenatewolf) August 15, 2015
When reality and real life are the same thing to kids:
Me: There's my big girl.

3-year-old: I'm not a big girl!

Me: There's my little girl.

3: I'm not little!

Me: What are you?

3: A dragon.

— Exploding Unicorn (@XplodingUnicorn) June 8, 2015
Whoever said parenting would be blissful...
Never, & I mean NEVER make eye contact with a child on the verge of falling asleep.They will sense your excitement & abort mission! #momlife

— CaffeineAndFairydust (@CaffeineandF) November 14, 2015
Start 'em early:
Me: What did you learn in kindergarten today?

5-year-old: A doughnut would help me remember.

Apparently she learned bribery.

— Exploding Unicorn (@XplodingUnicorn) August 12, 2015
A future Cabinet Minister right there:
Just taught my kids about taxes by eating 38% of their ice cream.

— Conan O'Brien (@ConanOBrien) September 4, 2011
It's Janice, right? No, Janet? Oh Sarah, hi...
As the parent of a 5yo boy, I can name all the dinosaurs and none of my coworkers.

— Northern Lights (@PinkCamoTO) April 28, 2015
True fear:
You don't know fear until you hear your 2yo flush the toilet and yell "BYE BYE" from the hall bathroom. #funnyparents

— Amy Westmoreland (@lilwestman) October 31, 2015