Fed up parents sue their 30-year-old son to make him move out
24 May 2018, 15:28 | Updated: 7 June 2018, 17:00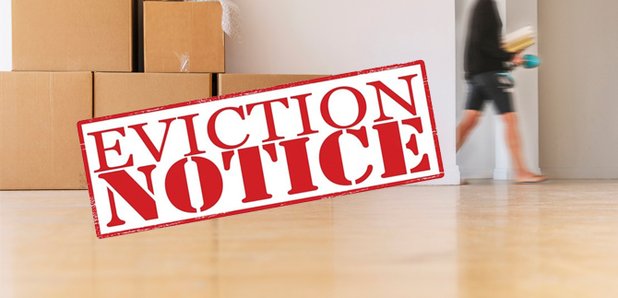 A couple in New York have been left with no choice but to take their son to court in a bid to get him to leave their home.
According to the frustrated parents, they have given their son Michael five notices over the past few months telling him to leave their house and even offered him support to help him find somewhere else.
However, their 30-year-old son is claiming he hasn't been given enough notice before being asked to leave their property after he moved back in eight years ago.
During the hearing on Tuesday, Michael represented himself in court and argued that he was entitled to six more months of living with his family.
However, court papers claim the parents want their son to move out as he doesn't pay for living with them and doesn't help out around the house.
It seems as thought suing their son was a last resort, as the parents sent him previous notices including a stern letter which stated they would take further action.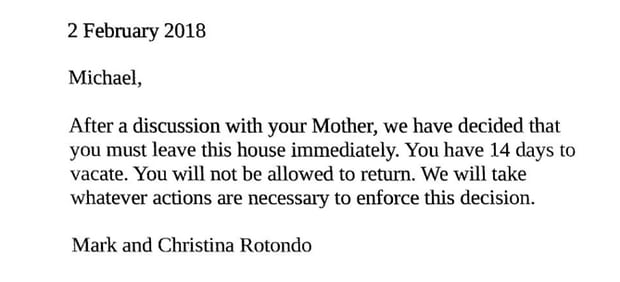 Credit: Syracuse.com
In a note dated 2 February, which has been filed in court, they wrote: "Michael, after a discussion with your mother, we have decided that you must leave this house immediately. You have 14 days to vacate.
"You will not be allowed to return. We will take whatever actions are necessary to enforce this decision."
The family even tried to pay their son off and offered him over a grand in hopes of helping him find somewhere new.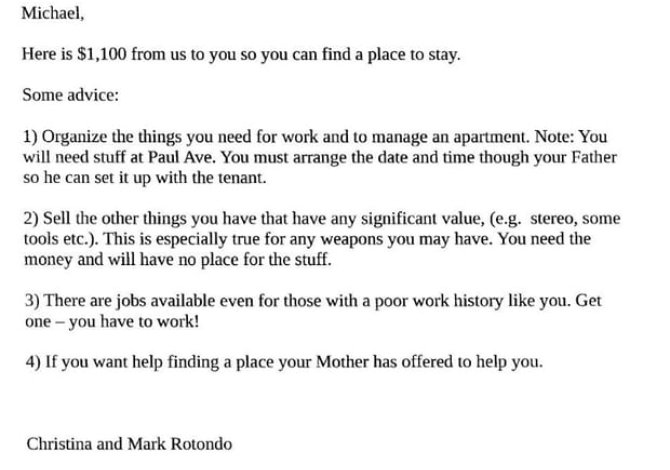 Credit: Syracuse.com
American network, News 8 reports the neighbours are siding with the parents too, with resident Lashea Wright stating, "It's time. He's 30. And not paying rent. You need to be independent."
The Rotondo family is going to court later this month, just before the son's 31st birthday.