These are 2018's most popular baby names so far
26 March 2018, 11:11 | Updated: 7 June 2018, 17:00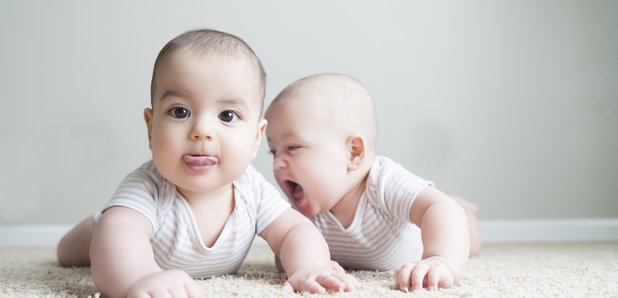 None of 2017's most popular names have made the cut...
The most popular baby names so far this year have been revealed.
For girls, the names Emma, Olivia and Ava have taken lead, whilst Liam, Noah and Logan rank highest amongst the boys.
It is thought that Emma, has come out on top for girls due to it's popularity amongst actresses including Emma Watson and Emma Stone.
Meanwhile, many of the others have cute meanings with Olivia being, 'Olive tree' and 'Ava' meaning 'bird'.
Here are the most popular girls names so far:
Emma
Olivia
Ava
Isabella
Sophia
Mia
Amelia
Harper
Charlotte
Mila
Aria
Evelyn
Abigail
Ella
Avery
Scarlett
Riley
Layla
Emily
Chloe
And here's the boys most popular names so far:
Liam
Noah
Logan
Oliver
Mason
Lucas
Ethan
Elijah
Aiden
James
Carter
Alexander
Sebastian
Michael
Jacob
Jackson
William
Benjamin
Jayden
Gabriel
Parenting site Babygaga gave their predictions for what the hottest monikers of 2018 will be, but take it with a pinch of salt because as with all trends things can change!
Especially if a new celebrity takes the world by storm or a TV programme - remember when the most popular trending name for boys was Joffrey, as in the Game of Thrones character?
Here are the top 10 predicted popular names for both girls and boys in 2018...
Girls
Emma

Charlotte

Sadie

Violet

Kennedy

Savannah

Penelope

Victoria

Ellie

Hazel
Boys
Finn

Jack

Atticus

Oliver

Theodore

Reuban

Dylan

Corin

Adam

Alexander
Topping the list for girls names is the classic English name Emma and at the top for boys, Finn.
Babygaga have predicted these lists based on emerging name trends over the last few years including the rise of gender neutral names which will explain the appearance of those such as Kennedy and Corin.
So if you are expecting a new arrival in 2018 hopefully you've found some inspiration amongst these new lists!