Giovanna Fletcher reveals awkward moment Buzz, 4, asked where babies come from
30 May 2018, 17:42 | Updated: 19 October 2018, 20:17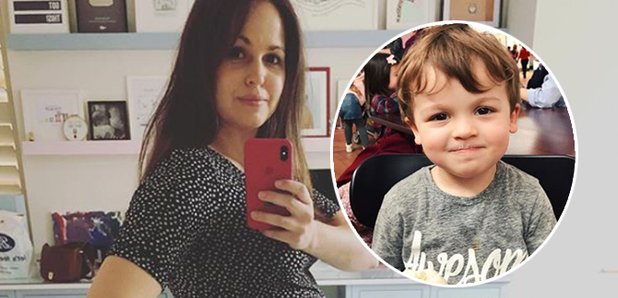 Giovanna and Tom were left lost for words when their eldest child asked how to make a baby.
The topic of the birds and the bees is never an easy conversation and it's one that left Giovanna Fletcher, 33, scrambling to explain to her four-year-old toddler Buzz, after he became curious about her pregnancy.
Giovanna, who is currently expecting her third child with Tom Fletcher, 32, told Heart she found herself having to talk her way out of a tricky situation.
"I said something about a seed," she laughed.
"I said, 'Your daddy gave mummy a seed', I wasn't entirely sure what to say. I knew there were answers I'd heard before that I wanted to use but in that moment I just couldn't remember any of them.
"So I tried to use the seed analogy, but I couldn't quite remember where the seed was meant to go."
Tom admitted he was of little help in the situation as he took upon himself to make a brief exit when the topic came up.
He recalled: "I remember, I was just leaving the room as he asked, and I was like, 'Yes! I've dodged this one!"
With only a few month left until she gives birth, Giovanna claims she still doesn't know how she is going to explain the birth to Buzz.
She added: "I'm still waiting for the, 'So mummy, how is the baby going to get out of your tummy?'
As for the topic of sex, both Tom and Giovanna claim they will be open with Buzz and his two-year-old brother Buddy about the topic as they grow older.
"It's all about communication; knowledge is key. " Tom explained.
When it comes to body confidence, the couple claim their kids are currently as happy as ever and love nothing more than to be free.
Tom said: "They are at that lovely age where they're completely unaware of these issues and want to be run around naked all the time, but its a beautiful age.
Giovanna, who recently spoke out against cruel internet trolls, claims she was always aware of diets when she was growing up but kids today will have a completely different mentality towards body image.
"Now, I do think there is this whole big thing about embracing your body - stop seeing the flaws that other people tell you are flaws, and actually embrace what you have. So I think actually, Buzz and Buddy are quite lucky to be growing up now when there is such a strong message out there."
Tom and Giovanna's brand new novel Eve of Man, RRP £12.99 is out May 31st.