Parents in uproar over poster stressing the importance of vaccinating kids
30 July 2018, 11:19 | Updated: 30 July 2018, 11:57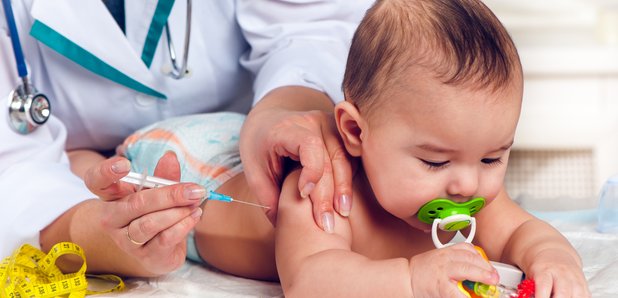 A note found in a U.S doctor's surgery has been slammed for 'intimidating' parents in to vaccinating their children.
A pro-vaccination poster that implies unvaccinated children have the potential to kill their own grandparents has gone viral.
Furious mum Sunni Mariah spotted the sign in her local GP clinic in Colorado, US, and posted a pic on Facebook accusing the surgery of "throwing shade" at parents who are are "anti-vaxxers".
The sign asks questions such as: "When your daughter gets rubella when pregnant, how are you going to explain you chose to leave her at risk?
"What will you say when she calls you and tells you she has cervical cancer, because you decided she wouldn't need the HPV vaccine?
"What do you tell your son when he breaks the news to you that he cannot have kids, thanks to the mumps that he got as a teenager?
"And what do you say when he gives influenza to his grandma? How do you explain she won't be coming home from hospital? Not ever."
It continues: "Do you tell them you didn't think these diseases were that serious?
"That you thought that your organic, home cooked food was enough to protect them?
"Do you say sorry?"
The powerful message was originally written by Australia's Dr Rachel Heap - of the Northern Rivers Vaccination Supporters (NRVS) in New South Wales during a Facebook rant two years ago.
Her message was later adopted by the doctor's surgery in the States and used in their marketing material.
However, it later went viral when Mariah posted a pic of it on Facebook and has since racked up 205,000 shares, 32,000 likes and 5,200 comments.
It seems not everybody agreed with the post with some users taking to the comments to argue against the message, some even going as far to explain their own conspiracies surrounding the "danger" of vaccines.
Others were pro-vaccination, and claimed parents should take on board the advice as they could be putting others at risk.
However, some claimed the doctor's note should remain neutral and encrouage parents to make their own choices.
The sign comes shortly after we revealed the Australian government plans to fine parents who don't vaccinate their children.