School plans to close at Friday lunch so teachers have more 'chill time'
27 April 2018, 14:21 | Updated: 7 June 2018, 17:00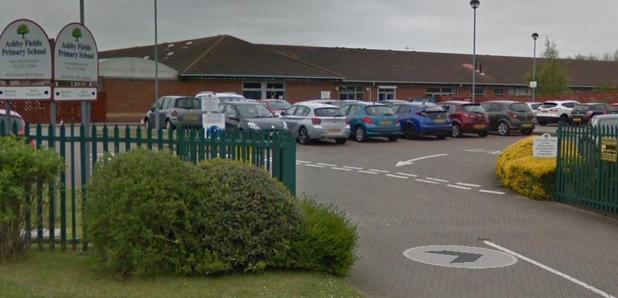 Four hundred children aged between 4 and 11 could soon be starting their weekends at 1:15 on Fridays if Ashby Fields Primary School impose their radical new plans to stop teachers quitting.
A primary school plans to close at lunchtimes on Friday so teachers have more 'chill time' - and parents are outraged.
They have slammed the idea as being unfair to those who work, and accused headmistress Jacqui Johnson of sacrificing their kids' education in favour of more "chill time" for her staff.
Parents were invited to a meeting at the school on Wednesday night to discuss the plans, and it seems that most were not in favour of the changes.
One raged on Facebook: "Why should we pay more money to help these overpaid! Overworked! Teachers, who actually get 13 weeks a year off work for holidays...

"I seriously believe they are trying their luck and hope us as parents fall for it.
"I think, had they have any evidence that this would improve my child's education, then I may have listened to this b******t."
Another seethed: "Funny how when parents want to take kids on holiday in school time when it's cheaper to destress there is uproar."
Parents were told about the prospective changes by letter, which explained it was imperative that teachers get more time to relax. It said having well rested teaching staff had a knock on effect on "pupils' well-being and confidence" and that teachers across the country were struggling to keep up with huge volumes of work that often meant they were working 60 hour weeks.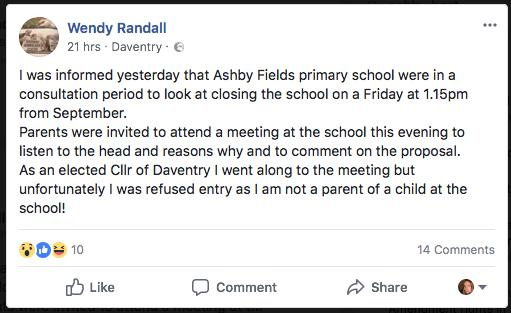 The letter added: "Many teachers, despite their love of frontline teaching, cannot manage this workload and maintain a healthy work-life balance, and subsequently resign."
If the plans go ahead, Ashby Fields will cut two hours from its current 27.5 hours a week timetable, which is perfectly legal. The Department of Education recommends key stage one children receive just 21 hours of lessons a week, and 23.5 hours for key stage two.
The school's chairman of governors and Jacqui released a further statement about the proposed changes.
It reads: "'As part of the on-going commitment to continuous school improvement, the senior leadership team and governors of Ashby Fields Primary School have been discussing possible ways to enhance the quality of teaching and learning at the school to ensure we meet with needs of our pupils and invest in our staff.
"One possibility is to review the structure of the school week in relation to an earlier closure time on Friday and as a result access additional staff development time to enhance the quality of teaching and learning."