Can You Figure Out What's Wrong With This Six-Year-Old Exam Question?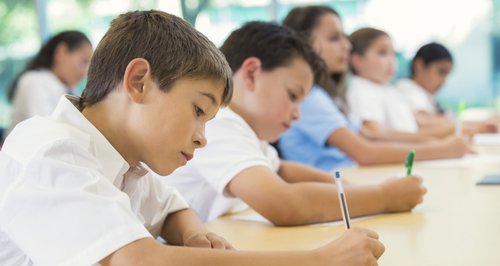 It's a question designed for Year 2 pupils, but it's left teachers and parents completely confused!
Mum Fiona Pullen hit a sore spot when she Tweeted a picture of a seemingly daft question from her daughter's SPAG tests:
@MichaelRosenYes Yet more SPAG nonsense: Year 2 daughter marked wrong for ticking 'and'. pic.twitter.com/csh4V2VRAu

— Fiona Pullen (@fiona752) May 1, 2016
The young girl was marked wrong for selecting 'and' in her answer, when there is nothing logically wrong with this sentence.
It's clear that Ms Pullen isn't the only one who's annoyed by this fact, with many other parents posting their comments under her picture:
@acolourfulgirl Tweeted: 'But going to the cinema AND the park in one day leaves no time for practicing for SPaG tests!'
Whilst @MichaelRosenYes added: 'Send it to Nicky Morgan and Nick Gibb, they're online now and waiting to hear from you about it. #SPaGTyranny'
Meanwhile other disgruntled parents have also got involved by pointing out similar discrepancies in the tests, where more than one answer seems to make grammatical sense:
@fiona752 @MichaelRosenYes another one here, fail to understand what is being tested here, all answers correct pic.twitter.com/2MOe5OpO0f

— Vicky S (@fens_commuter) May 1, 2016
What do you think? Have your vote below: