Stacey Solomon branded 'disgusting' as she still baths with her sons, 6 and 10
13 July 2018, 10:07 | Updated: 19 October 2018, 15:40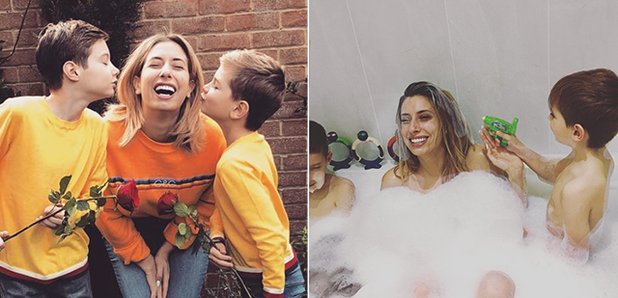 The mum-of-two received a backlash of nasty comments after posting a picture of herself in the bath with her boys.
Loose Women panelist Stacey Solomon, 28, revealed she received abuse from online trolls after posting a picture on her Instagram page of her sharing a bath with her two children.
The star, who is currently dating TV personality Joe Swash, uploaded a snap of her sitting between her two sons Leighton, 6, and Zachary, 10, in a bubble-filled bath to celebrate Mother's Day last year, but has now admitted that it caused her no end of online trolling.
Venting about the situation in her column, Stacey Says, the former X Factor contestant wrote: "I once shared that I bath with my children and all hell broke loose.
"People couldn't bear the thought of me being my naked self in front of my naked children.
"'Wrong', 'disgusting', and 'child abuse' were just a few of the words used to describe something that I thought was completely normal.
"It really made me question whether it was ok or not, until I thought: 'Hold on a second, it's never even crossed my mind so why is it now?
"I've never ever felt uncomfortable about being naked in front of my children and visa versa, how could I let people I don't even know change my whole outlook on my reality?"
The star admitted that bringing her two boys up as a single parent meant that washing together was often the only option, explaining: "I've spent most of my life as a single parent, where the majority of mornings were spent bathing or showering with my children because that way I could see them and make sure they were ok whilst I got ready.
"There was never an option for a shower alone."
She also admits that her eldest, 10-year-old Zachary, is now at an age where he's starting to turn more private. She wrote: "Bath time will remain the same until the boys decide otherwise.
"Zachary has got to an age where he prefers getting up and having his own shower, but I know he's not repulsed by seeing me naked or sharing baths.
"But eventually they'll let you know when they're over the bath times, cuddles and kisses. And that will be a very sad day!"