Is Home Schooling Kids A Good Idea? Stacey Solomon Makes Controversial Choice
19 March 2018, 08:35 | Updated: 7 June 2018, 17:00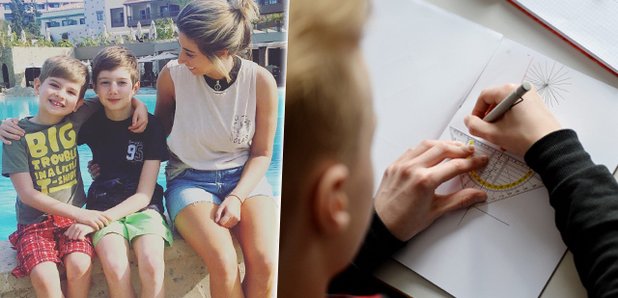 The TV star has chosen to have her two children tutored at home due to a change in their personalities and her view on the curriculum.
Loose Women panelist Stacey Solomon has revealed that she's made the life-changing decision to have her two boys home schooled. Questions surrounding her sons' educations began to circle after the star was pictured away with them during term time.
In her column Stacey Says, she explained that Zachary aged 10, and Leighton aged 5 did not return to school last September and will now be tutored at home.
The star felt concerned after noticing that her eldest, Zachary, was not being himself.
She explained: "When Zachary was halfway through Year Two he began to lose some of my favourite parts of his personality...He was a happy-go-lucky child, always inquisitive and wanting to know EVERYTHING about everything. But he would come home from school embarrassed to make jokes and be silly and he became very quiet and a little sad."
Stacey wrote that Zachary's attitude changed when his peers started to say it was uncool to be clever, and her doubts began to surface about whether attending school was working in his favour.
Homeschooling does not follow a particular curriculum, and this was another strong case for Stacey's decision. She explained: "There are so many things I think are imperative to my children's learning that just aren't a part of the curriculum and lots of things I PERSONALLY don't think are necessary on there."
"I have decided to keep up the core subjects just in case the boys want to go to secondary school at some point...Other than that one day, their learning is fluid and geared towards things they're interested in and excited about."
Home schooling is becoming increasingly popular in the U.K, with almost 30,000 youngsters being homeschooled in 2016/17. This is an incredible 97% rise from 2011, when just over 15,000 pupils were home taught.
Reasons around the huge incline in home schooling are unclear, although many believe it is a combination of bullying, poor Oftsed results and an out-dated curriculum.
Stacey penned that she has mixed memories during her school years, after being removed from her first school for being disruptive, and wants her children to have the best experience growing up. She wrote: "Ultimately, I have no idea how this relatively new step in our lives will pan out, but right now my children are happy and healthy, enjoying life and learning and that's all I can hope for."
"Everything I have ever done for and with my children is with their best interests at heart and I think that that is all parents ever do."
Do you agree with homeschooling? Vote in our poll below: