These Instagram Superdads TOTALLY Nail #DadGoals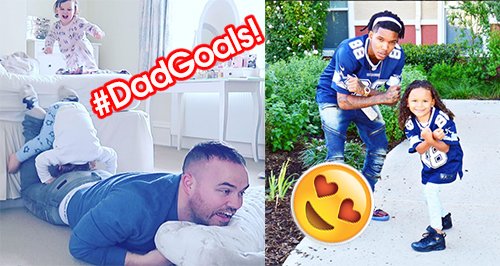 The internet is full of yummy mummy bloggers and celebs Instagramming selfies of them and their children. But what about the adorable dads hiding out there?
There are mummy bloggers galore that take adorable pictures of themselves and their children, but sometimes nothing tugs on the heart strings more than a doting dad.
We've rounded up the most #DadGoals instagram posts on the web to bring a tear to your eye thanks to the gorgeous bond they have with their children.
Josh Marshall won #BestBaldDad of the year after he got a tattoo to match his son's scar from a recent operation.
The contest was held by the St Baldrick's Foundation and is to appreciate dads who have shaved off their hair to support their children who have lost their hair during Chemotherapy treatment
But Marshall took it one step further with his inspirational tattoo! Since winning, people from all over the web have praised the dedicated Dad for his bold act of solidarity with his son!
Michael Worthington, known on Instagram as IceMikeLovesAsia shares snaps of his ADORABLE relationship with his daughter Asia!
His Instagram account is full of the sweetest videos of the pair out and about and LOTS of snaps of them in the cutest matching outfits.
From football games to the gym it looks like the pair do everything together - SOOOO CUTE.
And what's most impressive are the videos of him doing Asia's hair - he certainly knows his stuff and can fashion her hair into a neat ballet bun, wow!
Kevin Blankenship's AMAZING pancake creations are #DadGoals all over
This dad's incredible pancake themes Instagram began as a way to document the experiments he made in the kitchen for his young son's breakfasts each morning.
He soon perfected his pancake art masterpieces and now 27,000 followers on Instagram!
We wish we could whip up something this fab for breakfast everyday...
Jonathan Saccone-Joly has been vlogging the life of his family for seven years and his daily Instagram posts are too cute to handle
His two young children Emilia and Eduardo are adorable and the dedicated dad posts photos of all the quality time he spends with his children.
If his daily posts aren't enough for your cuteness fix their daily vlogs on YouTube which are shared with their 1.7 million followers should do the trick!
Beau Coffron's dedication to creative packed lunches leaves us speechless!
On Instagram he goes by the name Lunchbox Dad and for good reason!
He crafts the most amazing pictures with food all in his kids packed lunches. He styles food into wacky creations to encourage his children to try different foods and make their school lunches way more fun to eat!
His past masterpieces have included Willy Wonka themed bento boxes and also Despicable Me inspired meals - WOW just doesn't cut it for this super dad!
How amazing are these dad's! They are literally #DadGoals in a nutshell! Let us know if you know any inspirational super dad's...