Woman gives birth in her back garden... as 1.4 MILLION people watch online
29 July 2018, 09:56 | Updated: 29 July 2018, 13:12
Sarah Schmid gave birth to her sixth baby in a playground near her home in France in front of her children - and a camera.
A German mum has become an internet star after shunning medical assistance to give birth to her sixth baby in her back garden against a trampoline.
Sarah Schmid, 36, is an advocate of 'free birthing', which sees women doing things the old fashioned way and giving birth alone with no pain relief or midwives.
All six of her children - Johanna , 11, Jonathon, 10, Emanuel, eight, Elisabeth, six, Konstantin, three, were born outside of hospital.
And when she welcomed youngest child Kiran, now 1, his siblings were there to experience the special moment.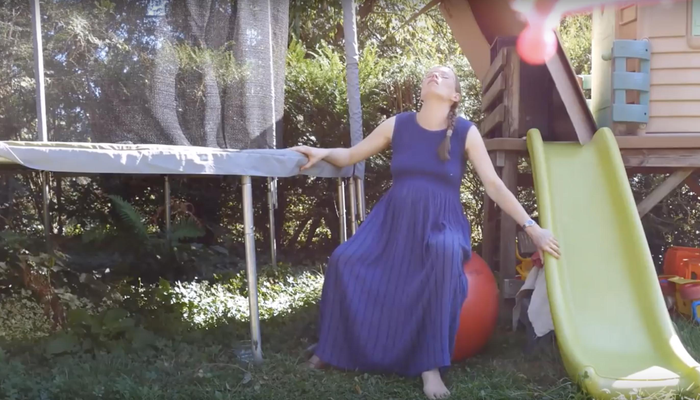 Sarah has filmed several of her home births (Image: YouTube)
She was inspired to start delivering her own babies after training as a doctor and seeing people deliver babies on the wards - and feeling uneasy about it.
She told The Sun: "I studied medicine to become a doctor, although now I am a full-time mum.
"There I watched people giving birth in hospital and I thought, 'I can't do this. It isn't relaxing.'
"It made me realise I wanted to give birth without intervention."
She had a midwife present when giving birth to Johanna, but declined pain relief.
Sarah says that her first labour lasted fifteen hours, but by the time baby number two came, she felt confident enough to head out in to the woods to give birth alone.
After four hours baby Jonathon arrived - and it was only then she called for husband Tim, 41, to come out and take photos of their new arrival.
At the time the family were living in Sweden, and she added that she wasn't worried about a random rambler or dog walker stumbling in to her mid-labour on a picnic blanket.
She said: "It was very isolated there. There had been a storm, so there were just broken trees. It was bare and beautiful.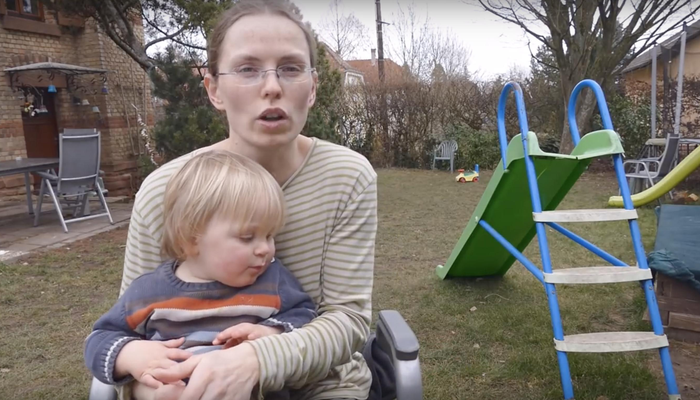 Sarah and Kiran next to the slide where he was born (Image: YouTube)
"I can relax best outside. I can look up to the sky, feel grass under my feet and focus.
"I found it stressful in hospital. I found the forest very relaxing, so I thought it was the best place for me to have my baby.
"My waters broke around 11pm and I walked to the forest at 1.30am and he was born around 3.30am."
Other babies were delivered in the living room, in a barrel half full of rainwater, and en route to a "Native American style teepee" in the garden.
It was here that the family watched on as Sarah delivered Kiran in September 2016.
She said: "They were really excited and not at all scared.
"All the other births were at night, so they were delighted they got to see one. They watched TV when the contractions were coming, because they aren't very exciting, but when the baby was coming they ran out.
"A woman looks like a woman. It is the most natural and normal thing in the world. I don't think it's strange.
"In old cultures the girls would watch their mothers give birth, so they would know what it was like. Now the chance to do this is very small.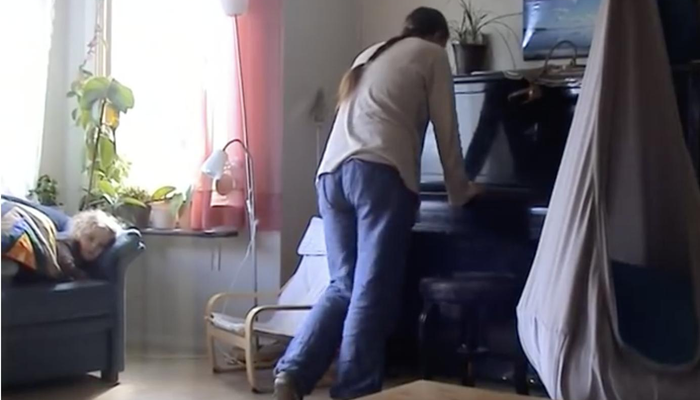 Sarah gave birth to one of her children in the living room as another child watched (Image: YouTube)
"This gives people the chance to see birth, and especially birth without intervention. It's a rare thing to see.
"Some people are excited, and some think it's the most stupid thing I could do. I don't mind. I love my happy and healthy family."
Sarah live streamed Kiran's birth online and later uploaded it to YouTube, where it has clocked up over 1.4 MILLION views.
She has also written a book about Freebirthing, which is available now.