Here's How Your Kids Can Get In Touch With Father Christmas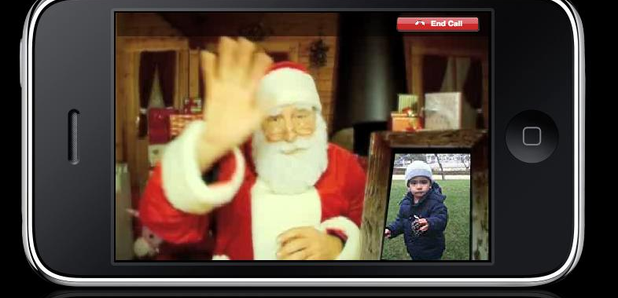 Forget writing a letter to Father Christmas. With these apps and websites, children can call, text, video message the big man himself.
Whilst writing out your Christmas list for Father Christmas and throwing it on to the fire so it reaches him in the North Pole is a beautiful tradition, it's also a little bit old.
With today's technology, children can actually speak to Santa over the phone, track him on his journey and even email him their Christmas lists.
Intrigued? Here's how you can get in touch with St Nicholas this Christmas.

1. Video message Santa with 'Hello Santa'
Parents are able to download the 'Hello Santa' app to their iPhone or Android where children will be able to talk to Father Christmas himself. And we're not talking some sort of digital trickery here, we're talking about the big guy himself. The catch? The call will cost you £10 a go. Don't let the price put you off though because this is a genuinely unique experience for your child and there's even an option to download the recorded video.
2. Receive a voicemail or text from Father Christmas with 'A Call From Santa!'
The 'A Call From Santa' app is free and can be downloaded on to your iPhone, Android or iPad. This app will let you personalise the pre-recorded messages with your child's name and their photograph. You can choose what time you receive the call to give it the ultimate authenticity. You can also call Santa and leave a voicemail and find out if they've made it on to the naughty or nice list.
3. Send Father Christmas an email
Gone are the days of burning your Christmas list on the fire, especially when you can email St Nicholas himself! emailsanta.com lets you write Santa a personalised email. It's dead easy for children to do by filling in the blanks and then sealing it with a special stamp chosen by you. Because it's all done through the website, there's no need for an email address so you won't get any spam sent to your inbox. When you're done, you can expect an almost instant reply from St Nick.
4. Follow Santa's journey with NORAD tracker
This is a Christmas Eve must. Children love watching the little Father Christmas icon in NORAD as he sets off on his journey around the world, reaching the places where Christmas Day comes first, like Australia. Besides, it explains exactly how Father Christmas manages to reach every house in one night.