People Are Doing THIS To Show Their Pet Appreciation!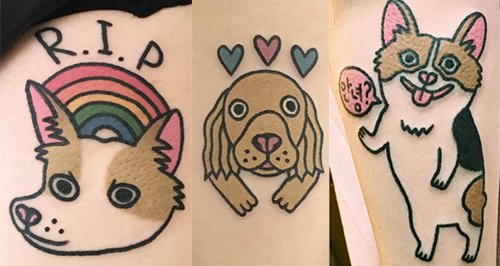 This tattoo artist immortalises pets in the cutest way! But would you do this to remember your pet?
We all get attached to our pets when they are truly part of the family, and for some, there's no more fitting tribute than getting a piece of art dedicated to your little friend.
So would you go as far as getting your furry friend tattooed onto your skin? Now that's one way to permanently remember them!
South Korean artist Jiran specialises in pet tribute tattoos and his creations are absolutely ADORABLE.
Rather than opting for super detailed and realistic tattoos, his designs are ALL about the cute factor and capturing the unique personality of your beloved pet.
And we think you'll agree, his artwork is pretty spot on in the personality stakes when placed next to a picture of the real thing!
They're certainly a unique way to remember your kitten or pooch!
But even if tattoos aren't your thing, Jiran would be able to recreate your pet on the page for you with an equally amazing drawing.
But sadly there's on hitch...you will have to travel all the way to South Korea!
For information on ways to protect your furry friend, visit Pets in a Pickle.