Found! Photographer's Search For Newly Weds In Stunning Picture Is Over!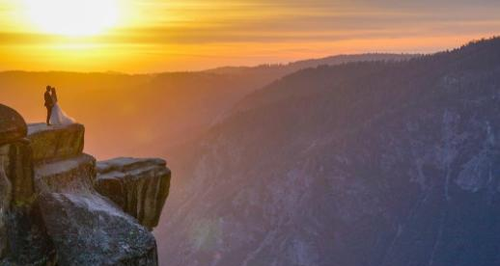 It's the wedding photo that every newlywed could only dream of. As the couple stood on the edge of a towering cliff in Yosemite National Park, the bride's train flowing in the wind, the groom gazing at his new wife, all the while the sun is setting in the background on the new Mr and Mrs.
Which is why this photographer is searching for the couple in his picture. Mike Karas was hiking through the National Park with friends when he spotted the scene before him on Taft Point.
Although he was close enough to take the stunning photograph, he was too far away to chase after the couple and show them his work.
This means that there is a pair of newly married lovebirds out there who have no idea that this glorious photo exists!
"It was surreal," he told NBC Bay Area. "We had seen the bride and groom walking down, but all of a sudden we saw them out on the ledge as we were shooting other photos and that 'Eureka!' moment just unfolded."
Mike posted the photograph in Instagram and Facebook in hope that the magical couple in the picture will come forward to see it.
So if you know who is in the photo - or if indeed it is you - Taft Point on the Pohono Trail at Yosemite National Park last week, let Mike know!
Update:
He's found them!