Pilot makes most romantic marriage proposal EVER
4 June 2018, 13:53 | Updated: 12 July 2018, 13:59
What's more romantic than a cheeky flight with your boyfriend? How about looking out the window and seeing THIS written on the beach...
An American man has asked his girlfriend to marry him by writing a secret message on the beach and then flying her over it in one seriously epic marriage proposal.
In this touching video, Nate Rigos and his partner of three-and-a-half years Nayia Leventis can be seen heading off in an airplane for what appears at first to be a casual flyover - but soon turns into something more.
During the flight Nate can be seen asking his partner to look at a spot down on the beautiful beach that lays ahead of them.
He says: "See there's an orange windsock. Right there, like right next the river. I need you to take a really good look at that for me."
Down on that beach he has written a message for his surprised girlfriend and while she looks down to read it, he takes out an engagement ring.
Nayia can be seen looking at the ring in shock and then out towards the empty stretch of beach to read 'Marry me Nayia?' written across the sand in this heartwarming video.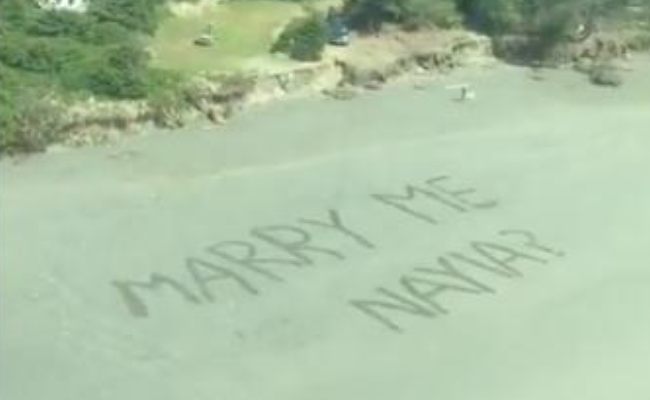 What a view! And unsurprisingly she said 'yes' (Image: Jukin Media)
Nate then begins the plane's descent onto the beach ahead, all while telling his partner that he loves her with all his heart.
"Alright let me land this airplane," he says before landing the plane successfully right next to his message in the sand.
When they disembark the plane, he gets down on one knee and formally proposes to the love of his life.
She happily says yes finishing up what must be one of the most elaborate proposals of all time.