Plus Sized Fashion Blogger Uses Wedding Dress Photos To Send A Powerful Message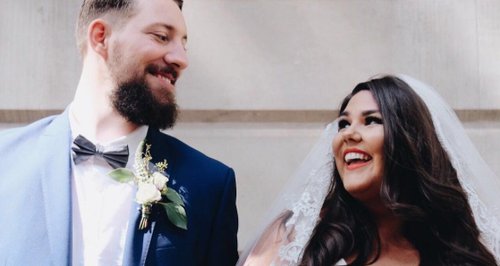 Fashion icon Callie Thorpe has spoken about accepting her shape and staying confident in a beautiful wedding Instagram post...
Fashion and beauty blogger Callie Thorpe has shared beautiful pictures of her wedding day to inspire other plus-sized brides.
The London-based style icon, who has 98,000 followers on Instagram, says she started blogging because she couldn't find a 'body shame free' space that was entertaining and inspiring for larger ladies.
Just two weeks ago she got married and the photos are TO DIE FOR!!
Callie decided to pass on her happiness and message of body acceptance to her followers with an inspiring Instagram post focused on her GORGEOUS wedding gown...
She said: "I never dreamed I would wear a dress like this, I used to think that I would never get married until I was thin. There were even times I doubted myself thinking I would be too self conscious to wear it."

Awwww, we love her honesty.
She added: "But as you grow older and you surround yourself with the right people, you begin to realise that what you look like doesn't really matter to those that love you."
Callie married the love of her life, Dan Hetherington, in a slinky mermaid gown in a soft champagne colour. Her bridesmaids wore sparkly gold dresses from ASOS to complete the gorgeous day.
Callie told her Instagram fans: "I would like to say this one thing to brides to be everywhere, plus size or not. Do not feel you have to change yourself or your size to be happy on your wedding day, your partner loves you for who you are, not just what you look like. You are deserving of happiness no matter what your size, and you will still be the most beautiful person in the room next to your love because you will be glowing with the love you have for each other."
Excuse us while we have a little cry!
Just take a look at the happy couple together on their big day...
And what do you think of these stunning bridesmaids dresses. Talk about glamorous!

Are you feeling inspired by Callie's message? Let us know below...