This Pokemon Proposal Proves The Craze Has Gone Bonkers!
This bizarre, albeit adorable, proposal shows the Pokemon Go trend isn't going anywhere.
If you thought the Pokemon craze was going to blow over, and kids would go back to normal then you better think again.
Turns out the fandom take their loyalty towards the game very seriously and one budding Pokemon master has used his love for the brand as inspiration for a proposal.
The gamer, known only as Foxhound91 on Reddit, placed a sparkly engagement ring inside his very own Pokeball, along with his very own custom Pokemon card to pop the question.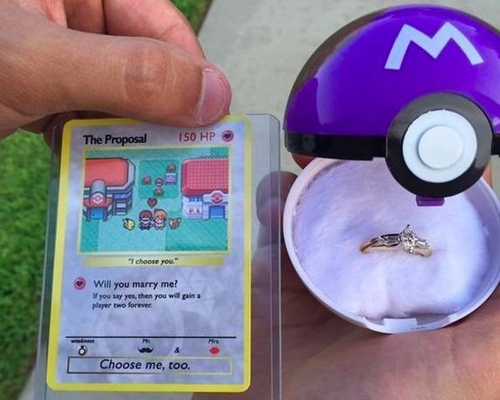 The card sees the couple appear as Ash and Misty, accompanied by two Pokemon - a Pikachu and an Eevee, with text that reads: "Will you marry me? If you say yes, then you will gain a player two forever."
We've got to hand it to him, even thought this is bonkers, it's actually really cute!
Aww!