Dirty duvets, overflowing bins and family fights: 24 hours at Pontins
28 August 2018, 17:24 | Updated: 29 August 2018, 14:13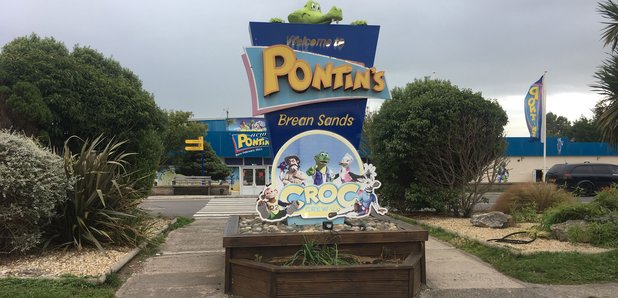 After one mum claimed she abandoned her Pontins holiday because it was so dirty, an undercover journalist spent a night at their local holiday park to see if it it was really that bad.
Overflowing bins, duvets smeared with 'human faeces' and fag ends all over the floor: Welcome to Pontins Brean Sands.
Weeks after a mum claimed her family abandoned their £1,200 holiday as their chalet was disgusting she feared her baby would get ill, an undercover reporter from Birmingham Live spent 24 hours at her nearest holiday camp to see if it really was as horrific as reviews on Trip Advisor made out.
Holidaymakers headed to the Brean Sands resort claim to have discovered horrific conditions including blood-stained sheets, chalets infested with rats and fridges full of abandoned, mouldy food.
Sadly for the Birmingham Live reporter, this was the tip of the iceberg, with footage she collected from her trip to the park in Cornwall showing a duvet smeared with human faeces, smoke alarms that never turn off, midnight screaming matches and fridges full of festering clumps of forgotten desserts.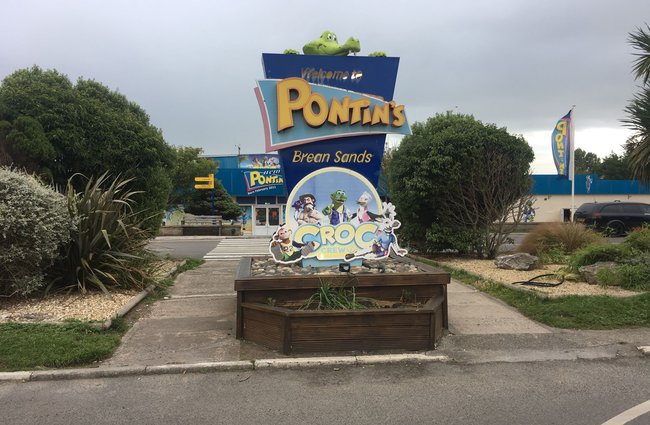 Credit: Stephanie Balloo
On arrival, the publication found "litter being strewn across the floor, chewing-gum trodden into the carpet and dozens of cigarette butts discarded outside the main frontage."

And the allocated apartment did little to improve their first impressions with the reporter discovering "overflowing rubbish, dirty towels and empty crates of booze dumped in the entrance."
It wasn't until the reporter went inside that she discovered a major cock-up on Pontin's behalf - she had been given the spare keys to a chalet being used by a family.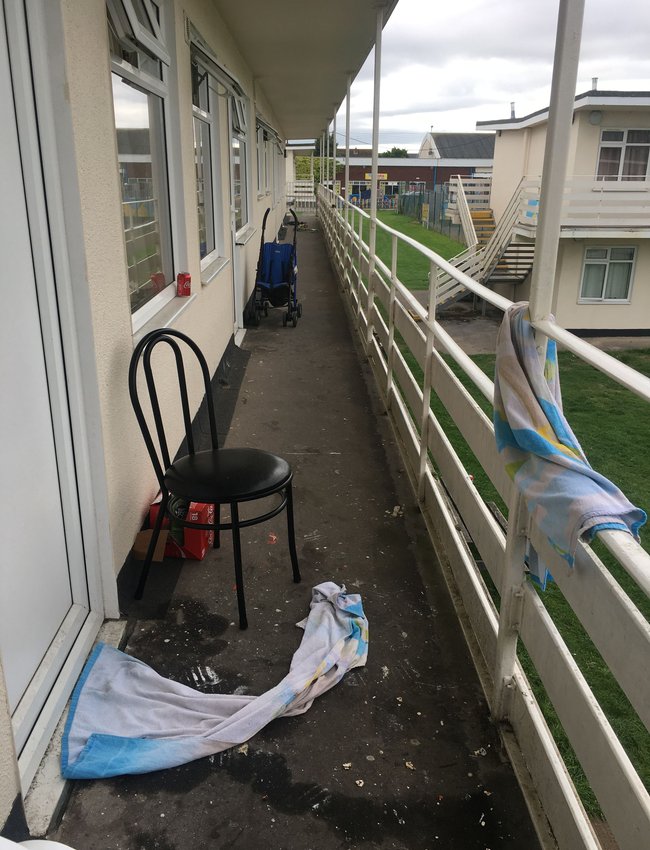 Credit: Stephanie Balloo
She wrote: "I'm first greeted to my apartment block with the sight of what appears to be someone's vomit. I try to dodge this as I haul my suitcase up the steps. But nothing could prepare me for what I was about to experience.
"A full to the brim bin, burnt trodden-in popcorn and two damp towels - one strewn across the filthy corridor floor and another hung up on the rail. There was a empty crate of beer abandoned and a mug full of cigarettes and ash dumped on the floor outside too.

"And this was just the exterior of my allocated apartment.

"I was horrified but despite everything I've heard about Pontins, I thought surely this can't be right.
"But from the window I thought someone had genuinely left my room in this state, so I double checked the door - number 60. And double checked my documents - number 60."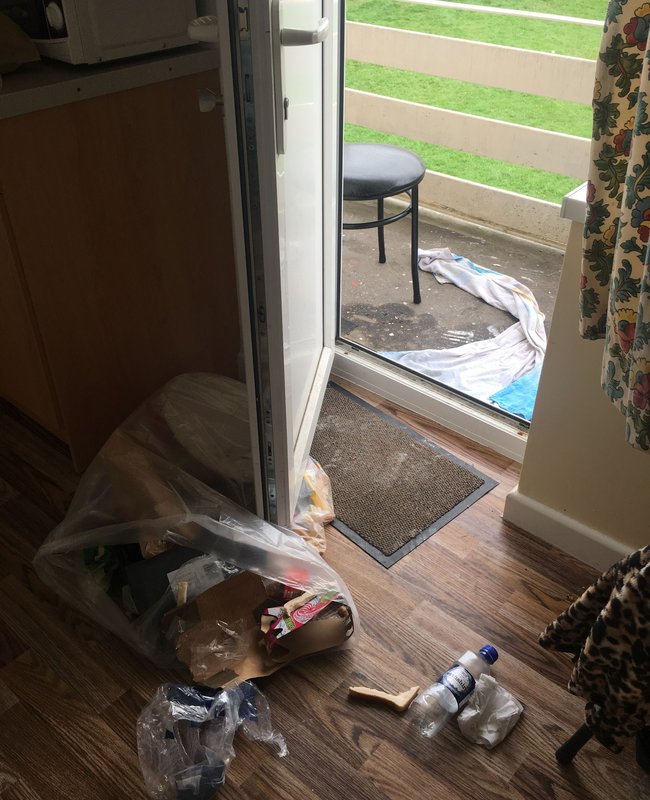 Credit: Stephanie Balloo
The reporter had experienced a 'room mix-up', which a neighbouring holidaymaker explained to her was not uncommon. They described the trip back to the receptionist, and revealed: "When complaining to reception about my apartment, the formerly chirpy lady now seems inconvenienced and replies "agh okay" before calling the manager.
"She explains that there is two sets of keys and suggests the family should have checked out.
"She is unapologetic for the inconvenience caused, as is the manager - who says somebody had gone into a room they shouldn't have been in."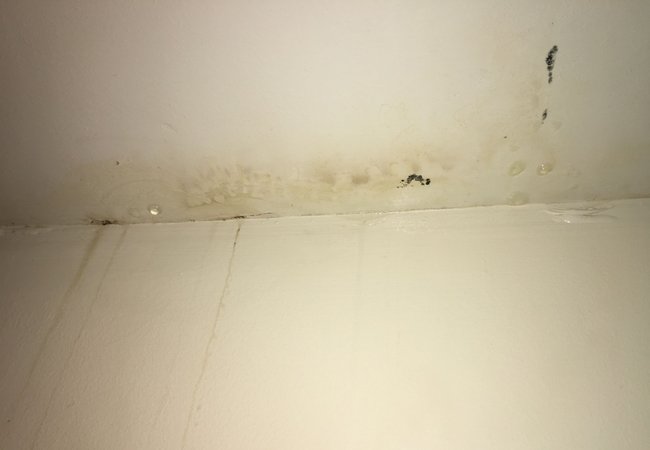 Credit: Stephanie Balloo
After the reporter finally got the right set of keys to the right apartment, it wasn't long before they were met with fresh disappointment at the state of number 61.
"I get my keys to the new apartment no 61 and it is relatively clean save for the broken toilet seat with the sharp edges. The harsh smell of smoke makes me choke slightly as I enter and there's dripping damp all over the ceiling too.

"A bucket has been placed underneath to collect the condensation. Small yellow blobs stick to the inside of the bath, though I'm unsure what these are."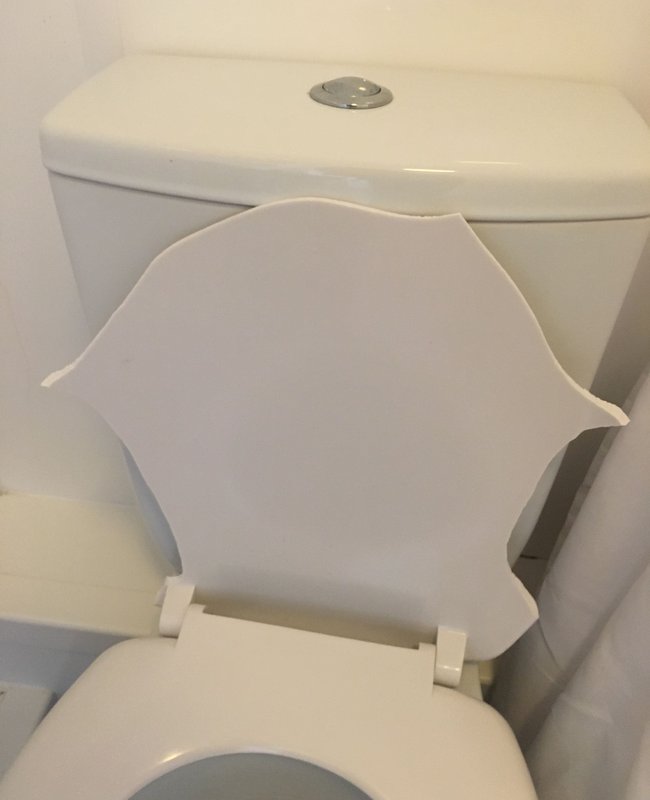 Credit: Stephanie Balloo
The appalling conditions continued beyond the apartments and into the restaurant and dining areas, with the reporter describing the horrific state of the dessert fridge.
"Dirty fridges full of bashed up bits of cake is the offer for dessert. Crumbs of pudding spill out from the fridges and onto the floor - ready to get squashed like everything else on the food hall floor.
"Though admittedly what was left of the pudding was surprisingly tasty."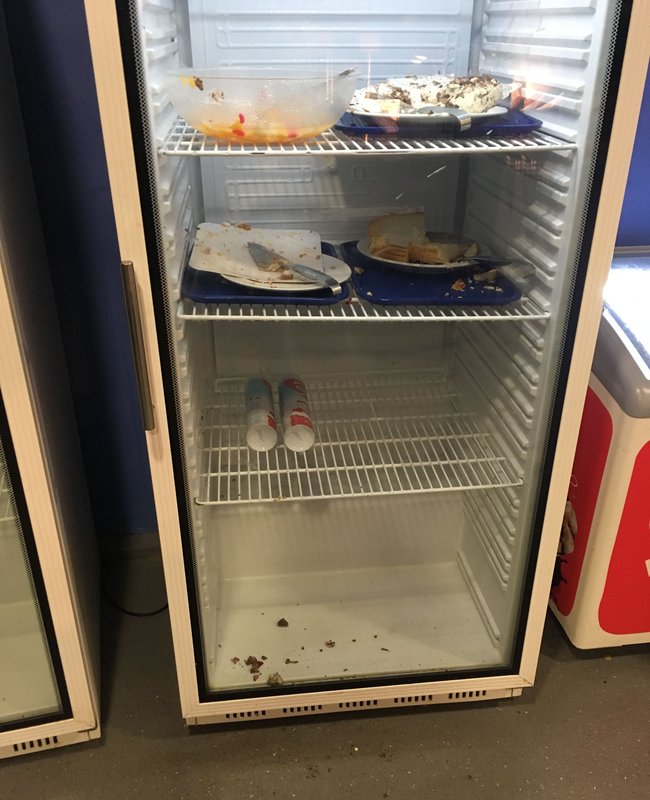 Credit: Stephanie Balloo
The reporter ended their 24 hours of woe by concluding: "I've seen and heard enough and while clearly there is demand for this sort of 'budget' holiday park, Pontins Brean Sands is in dire need of improvement.

"It is outdated, filthy and the complaints don't seem to be taken seriously.

"There are clear health and safety breaches and the entire park is full of litter and dirt. While there seems to be plenty to do in the evening until late, many guests believe their kids are stumped for things to do in the daytime.

"Pontins also claims to be affordable, yet there are many other extras piled on top of the basic room rate including tokens for everything on site, added events, any additional food and electricity.
"Though the children do seem to be enjoying themselves, it is a shame for the parents who have to endure this filthy, hellish holiday park."