Poundworld on brink of administration putting 5,300 jobs are at risk
11 June 2018, 10:35 | Updated: 11 June 2018, 11:33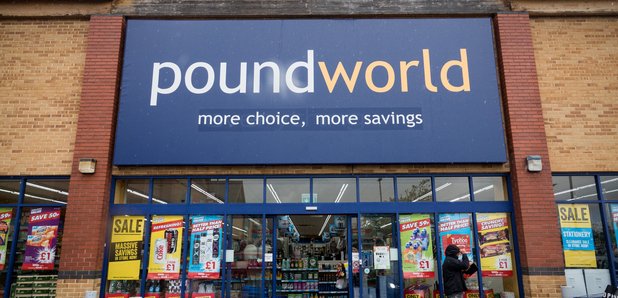 Poundworld could be the next high street favourite to close as rescue talks collapse.
The pound shop - which has 350 branches across the UK and employs thousands of staff - is the latest brand to fall in to trouble, following Toys R Us, Maplin and Mothercare.
Sky News reported that that the bargain retailer is set to become the biggest chain by number of employees this year to fall into insolvency, just over three months after the same fate befell Maplin and Toys R US UK.
Deloitte, which has been co-ordinating efforts to find a solvent deal for the business, is expected to oversee the administration of Poundworld.
A source said discussions between Poundworld's owner, TPG Capital, and Rcapital about a rescue deal had fallen apart over the weekend, days after a bid from Alteri Investors, another turnaround investor, had also been terminated.
There remains some optimism that a proportion of the chain's 5,300 staff will avoid losing their jobs if buyers can be found for parts of Poundworld's business during the administration process.
Other retailers are expected to pick off parts of its 355-strong estate, while a slimmed-down Poundworld operation may also be viable.
Nevertheless, Monday's news will be the latest in a grim tsunami of developments for Britain's embattled high street, coming just days after House of Fraser announced it was to close 31 of its 59 stores.
Poundworld's 350 stores:
Croydon
Leicester Haymarket
Chesterfield Clay Cross
Swindon
Kilmarnock Bargain Buys
Kings Lynn
Bradford Foster Square
Luton
Bradford
Kirkaldy Fife Central Retail Park
Wrexham
East Ham
Dartford
West Bromwich Bargain Buys
Paisley Bargain Buys
Kettering
Swansea Parc Tawe Bargain Buys
Coventry
Stevenage
Doncaster
Brighton
Newtownabbey
Wolverhampton
Cleveland Bargain Buys
Lewisham
Bradford
Shepherds Bush
Preston Deepdale Shopping Park
Portsmouth
Llanelli Bargain Buys
Livingston
Wakefield
Middlesbrough Bargain Buys
Harrogate
Archway
Newtownards
Bexleyheath
St Albans
High Wycombe
Omagh
Bury
Bristol Bradley Stoke
Newcastle
Nottingham Trinity
East Kilbride
Shrewsbury
Plymouth
Armagh
Craigavon
Belfast Connswater
Burnley
Wood Green
Glenrothes
Rochdale
Sunderland Bridges Shopping Centre
Ashton Bargain Buys
Merry Hill
Hounslow
Woking
Londonderry
Sunderland
Derby West Field
Gloucester
Northampton
Rotherham Bargain Buys
Hednesford
Bedford
Tottenham
Southport
Coventry
Belfast Donegall Place
Orpington
Taunton
Chesterfield Vicar Lane Shopping Centre
Gravesend
Runcorn Bargain Buys
Banbury Cross
Cramlington Bargain Buys
Cardiff
Canterbury
Cumbernauld
Warrington Bargain Buys
Bristol Emersons Green
Leeds
Chelmsford
Bolton Breightmet
Aberdeen Union
Wakefield
Bishop Auckland Extra
Glasgow Forge
Bristol
Nottingham Ladybay
Nottingham Victoria Centre
St Helens
Crawley
Washington
Newcastle Wallsend
Speke
Chester
Ipswich
Denton
Birmingham Stechford
Motherwell
Exeter
Aberdeen Boulevard Retail Park
Cameron Toll
Southend Bargain Buys
Liverpool
Basildon
Gateshead
Bargoed
Newbury
Bristol Extra
Northampton
Harlow
Romford
Belfast City Side Retail Park
Lincoln
Stockton Bargain Buys
Wisbech
Hull
Reading
Swansea Phoenix Retail Park
Clydebank
Irvine
Castleford
Fulham
Falkirk
Manchester Fort Shopping Park
Guiseley
Edingburgh West
Perry Barr
Wigan Robin
Cleveland
Dunfermline
Merthyr Tydfil
Chester
Hemel Hempstead
Leicester St Georges
Leeds Regent Street
Chatham
Sutton in Ashfield
Southampton
Inverness
Robroyston
Watford
Blackburn Lord Square
Cookstown
Derby
Banbury
Bloxwich
Wolverhampton
Llanelli
Newcastle Byker
Hereford
Ellesmere Port
Greenock
Llantrisant Retail Park
West Ealing
Durham
Killingworth
West Bromwich
Darlington
Aldershot
Peckham
Blackwood
Glasgow Argyle
Paisley
Brighouse
Warrington
Scunthorpe Skippingdale Retail Park
Sheffield Crystal Peaks
Corby
Ayr Heathfield
Sheffield
Boston
Hull Northpoint
Nottingham Broadmarsh
Stafford
Rhyl
Leeds Crown Point
Stockport
Gosport
Swadlincote
Blaydon
Leyton
Goole
Norwich
Bristol Avon Meads
Alloa
Waltham Cross
Slough
Pontardulais
Washington
Straiton
Leeds Kirkstall Road
Bootle
Skelmersdale
Airdrie Bargain Buys
Irvine
Wrexham
Peterborough
Peterlee
South Shields
Leith
Coventry Airport
Rayleigh
Leeds Merrion Centre
Havant
Newton Aycliffe
Newport Bargain Buys
Seacroft
Chester
Stocksbridge
Aylesbury
Middlesbrough
Whitehaven
Doncaster
Warrington
Preston
St Helens Retail Park
Bangor (Wales)
Scunthorpe The Foundry
Newport
Reedswood
Grimsby
Manchester
Darlington
Nelson
Huddersfield New Street
St Helens Bargain Buys
Redcar
Fleet
Crewe
Streatham
York
Accrington
Rotherham
Hermistone
Port Glasgow
Eccles
Queensferry
Lichfield
Bolton
Sheffield Parkway
Southport
Telford
Oldham
Birmingham (The Fort Retail Park)
Sutton Coldfield
Jarrow
Stockton
Maidenhead
Wythenshawe
Rothwell
Dumfries
Bangor
Linlithgow
Strood
Belfast
Hinckley
Middlebrook
Shrewsbury
Burton
Cardiff
Dunstable
Sutton
Barnstaple
Middleton
Halifax
Workington
Grantham
Colwyn Bay Extra
Rotherham Parkgate
Manchester Arndale
Leicester Bargain Buys
Thornaby
Carmarthen
Hamilton
Preston St Georges
Cambourne
Crewe
Andover
Wishaw
Perth
Grays
Hyde
Worksop
Barnsley Wombwell
Bracknell
Blyth Bargain Buys
Bradford Ivegate
Stretford
Shawlands
Leith
Barnsley
Trowbridge
Edmonton Green
Ashton
Ormskirk
Huddersfield Princess Alexandra Walk
Rochdale
Barnsley
Staines
North Shields
Seaham
Wigan
Harpurhey
Blackburn
Swinton
Blyth
Birkenhead
Selby
Hatfield
Torquay
Widnes
Glasgow Forge Retail Park
Liverpool Bell Vale
Derby Southgate
Mansfield
Dagenham
Dewsbury
Kirkby
Bude
Crossgates
Doncaster
Wakefield
Salford
Bolton
Loughborough
Cumbernauld Bargain Buys
Hull
Worksop
Cramlington Manor Walks
Sale