Quirky Wedding Ideas For Couples Who Want A Personal Touch.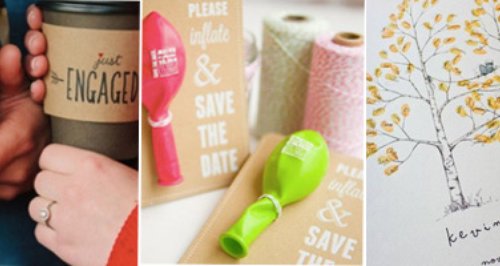 It doesn't take a celebrity wedding planner or bags of cash to plan a wedding that is unique to you. Facebook, Instagram and Pinterest are all bursting with inspiration for your wedding day. So make your big day extra special with these unusual takes on wedding invitations, favours and snacks that won't break the bank.
If you're feeling a little strapped for cash when it comes to favours, why not try giving out little plants instead? Seeds are cost effective and a great way to give your guests a gift that could potentially grow into something beautiful.
Have your guests leave their mark on your big day with this fingerprint guestbook. Simply provide some ink or paint and watch this tree of love sprout leaves in which your guests can write their messages. You'll have a unique guestbook and a gorgeous piece of art to frame as a memento from the day.
Announcing your engagement to the world is a big deal, but not everyone is happy to simply update their Facebook status. Now more than ever couples are looking for unique ways to spread their joy. These adorable 'she said yes' coffee cups add some personality and are easy to make at home.
Save The Dates are the best way to set the tone for your wedding, and these 'Inflate and Save The Date' balloons courtesy of White Knot are a humourous keepsake to inform your guests about how much fun they will have at your nuptials.
Photo Credit: White Knot
If you fancy your wedding snacks both sweet and practical then these innovative chocolate chip cookie cups are a fun addition to your evening buffet. Fill them with milk, or if you really want to get the party started make them boozy with shot of Bailey's for a grown up twist.
Have your guests ready to party from the moment they arrive at your reception with this vodka jelly shot table plan. Each guest (adults only of course!) will have their name paired with a shot and they'll need to down the boozy treat to reveal their table number at the bottom of the shot glass. It's cheap, cheeky and fun!