100 Love Notes: Father's Touching Tribute To His Wife Left Us In Tears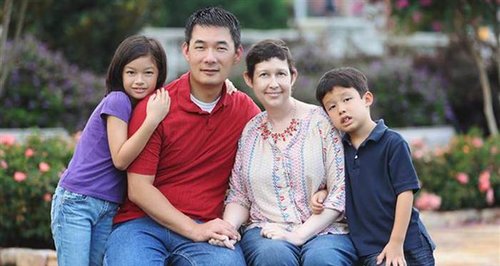 When Hyong Yi tragically lost his wife Catherine Zanga to ovarian cancer, he decided to honour her memory in the most amazing way possible.
The inspirational father-of-two didn't let grief stop him.
Instead he started a moving project dedicated to the love of his life, to help others realise what they already have.
On the one year anniversary of her death the assistant city manager channelled his affection for the love of his life into an incredibly moving show of gratitude by writing 100 notes - 50 from him and 50 from his other half.
Uptown with @budgetbadger sharing #100LoveNotes because there can never be too much pic.twitter.com/7QEHBqWVKc

— Andy Goh (@andygoh) November 20, 2015
"She was just a great woman." Yi said, adding "I did not fully appreciate how great and wonderful, loving and caring and thoughtful she was until I didn't have it anymore."
Then the family handed out these tokens of affection to complete strangers.
Just dropped a love note I've been hanging on to for quite some time in the mail. Life is short. #100lovenotes

— Amber Donoghue (@Betterthanitwas) November 20, 2015
Yi describes the notes as: "These 100 Love Notes are a monument to a love that lived for fifteen years and still echoes daily. I encourage you to take a few minutes and share in the joys and sorrows of love. At the end, thinking about the love in your life, I invite you to share your love story and express your love. Live fiercely. Love completely. Sincerely, Beloved"
It wasn't long until other people got involved in the amazing display of love:
Hi @lindseycfinch I love you because u r cool, have nice hair, funny, kiss good, r a good mommy. #100lovenotes pic.twitter.com/AsAymgzDhb

— Ted Williams (@ted_williams) November 20, 2015
Lisa @JanPing @taniakazakova17 @yogagirl1013 thanks for teaching me every day the joy of friendship #100lovenotes pic.twitter.com/Mi1DILWR0r

— Maureen O'Boyle WBTV (@MaureenOBoyle) November 20, 2015