Artist Recreates THAT Madonna Fall As Hilarious Comic Book Strip!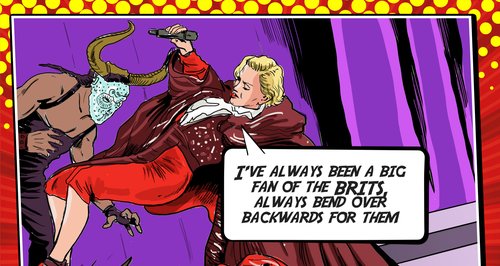 Illustrator Brian Williamson has poked fun at the 57-year-old pop star and some of the most controversial moments of the year with his witty drawings.
The Queen of Pop's embarrassing tumble at the BRIT Awards was spoofed around the internet back in February, now the moment has been immortalised in animation form, after iconic illustrator Brian Williamson knocked up some LOL worthy sketches recounting the biggest talking points of 2015.
Musicians such as Zayn Malik, Taylor Swift and Kanye West have all had their most controversial moments featured in a one-off comic book as part of a collaboration between Williamson and music streaming service Deezer.
The hilarious annual brings musical superheroes and villains to life through clever portraits much like Williamson's work for comic book giants Marvel and DC Comics.
Zayn Malik
It's safe to say that the former One Direction singer's departure from the band back in May came as a shock! This hilarious illustration sees Zayn biking off in a new direction as he leaves band mates Niall Horan, Harry Styles, Liam Payne and Louis Tomlinson in his trail of dust.
Madonna
Who could forget the moment Madge took that nasty tumble on stage at the BRIT Awards back in February? Well, it seems as though Brian Williamson won't let her live it down either with this illustration.
Taylor Swift
What would 2015 have been without the biggest musical catfight of all? Taylor Swift and Nicki Minaj are both seen lunging for the coveted MTV Moonman following their very public spat over the summer.
Kanye West
The hot-headed rapper may claim to be the 'greatest rockstar alive', however Williamson's witty portrayal of the moment Kanye stormed the stage when Beck's won the Grammy for Album Of the Year juxtaposed with his own set being stormed at Glastonbury made us chuckle!