10 Delicate Quote Inkings To Bring Out Your Inner Poet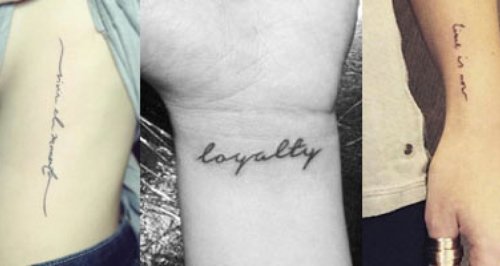 Scared of going all out when it comes to tattoos? Forget a lion's head (yes, we're talking about you Ed Sheeran) and opt for a delicate quote or phrase instead. Take a look at our pick of the best small, discreet and sentimental inkings from the world of Instagram…
Seeing Stars
This lovely little phrase courtesy of @littletattooideas looks great right at the top of the thigh. Who knew a bold font could look quite so ladylike?
Need Motivation?
This wrist tattoo will come in very handy during those agonising last few minutes on the treadmill! Check out @quotetattoos for more ideas.
Fitness Fanatic
If you're lucky enough to be someone who actually enjoys running then this is the quote tattoo for you! We wonder if we could get 'coffee and cake' or 'doughnuts' instead? Turn to @run2beat for more exercise inspiration...
Every Second Counts
We love the font on this 'time is now' tattoo from @tiny_tasteful_tattoos on Instagram. Scroll through the rest of the feed for more delicate designs, including a rather fetching stag that looks likes a cross between Cara Delevingne's finger lion and 'Harry Potter'…
World Traveller
Give in to your need for warm beaches and pina coladas with this cool 'wanderlust' tattoo courtesy of @jenxtattoos. We reckon this would look equally lovely on the collar bone or the back of the neck.
A Little Romance
We can't decide if 'be here now' sounds naughty or nice, but it certainly makes for a lovely tattoo. Seek out @tiny_tasteful_tattoos on Instagram for more.
Show Your Allegiance
Whether you're loyal to your husband of 30 years or pizza, we think this inner wrist tattoo from @tattoomiiaoz is worth shouting about.