10 Baby Names That Will Be Big Hitters In 2016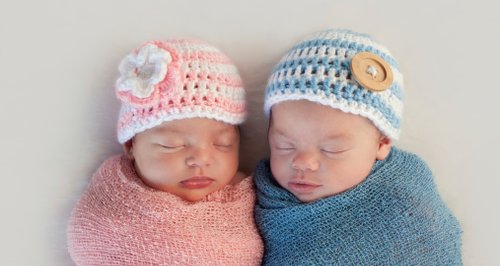 Finding the right name for your tot can be tricky. When a whole brand new person suddenly enters your life, turning your world upside down, it can be difficult trying to find the perfect moniker for them.
If you're looking for inspiration for a new member of the family soon to be entering your world, then we've got a little help.
Look no further than the baby names that are set to be seriously popular in 2016...
1. Judith and Noah
Biblical names have been popular… well since biblical times. Names like Hannah, John, Luke, David and Mary are classics. But in recent years, more exotic titles including Delilah and Isaiah have come back. Next year - yup, you got it, we're predicting Judith.
2. Charlotte and George
Let's face facts, it was practically inevitable after the birth of the Duke and Duchess's of Cambridge's second child last year, but we can confirm that Charlotte is well and truly back. After the little royal's debut, the name has shot up in popularity and will remain big news next year, as is her older brother's lovely moniker.
3. Gertrude and James
Names of writers and from novels are definitely also making a comeback at the moment too. Our great literary minds are influencing the next generation by passing on their names from Hugo to Fizgerald to Beckett. How fitting therefore that the poet, playwright and novelist Gertrude Stein's first name is set for dizzying heights this year.
4. Thor and Astrid
With programmes like 'Game of Thrones' and big blockbuster movies such as the 'Hunger Games' pulling in the crowds, it's no surprise that Astrological names are set to be big next year. We're holding out for Locki, Athena and Apollo amongst others.
5. Elise and Henri
With France currently at the forefront of all our hearts and minds, it's fairly obvious why French inspired names will big popular next year. Sophie, Maddy, Luc and Amélie are all delightful.
6. Deborah and Jude
We all know fashions are cyclical and we reckon it's time for the hedonistic 70s to spread it's epic comeback past the fashion stakes and into our future generations. Watch out for the return of Mark, Linda, Sally and Lynne.
7. Theodore and Florence
If you're loving the retro vibe, then why not look further back for some inspiration and channel the vintage stars of yesteryear. Martha, Nat and Luis may join the ranks, as well as Teddy, because quite frankly, who doesn't want to be named after a former American President?
8. Leia and Luke
With 'Star Wars: Episode VII' having recently conquered the box office, everyone's favourite space hero and heroines are enjoying a sharp rise in popularity from movie buffs and geeks alike.
9. Kiwi and Kale
Don't get us wrong, we're all fans of healthy eating here, but naming your kid after one of your five-a-day?! Yup, superfood is set to overcome the final frontier of our lives as we name our new born nippers after them next year...
10. Sarah and Harry
So it looks like there are some amazing names to choose from, but if you're more of a traditional sort, never fear. Classics such as Sarah and Harry continue to dominate the charts.
We're sure whatever name you pick for your newborn will be beautiful.