How To Convince Your Dinner Guests Your Life Is Sorted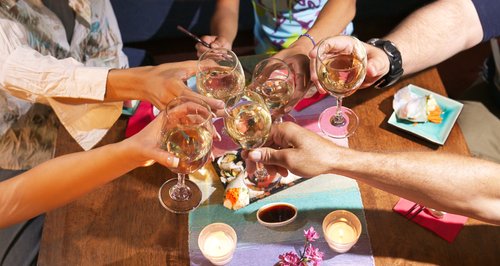 Fancy throwing a dinner party to show all your friends and family how together your life is? Here's how to do it...
Napkins! Because adults have napkins for their guests, not just kitchen roll.
Bonus points if they're folded into intricate shapes.
Eat in the dining room, at an actual table, with matching chairs. Aka, not the living room!
If you're eating off your lap in front of the TV, it's not a dinner party.
Book yourself a hair, manicure and fake tan appointment. Buy a hot new dress and answer the door like you're walking a runway!
You know that dining room you never use? Hang some framed pictures on the walls.
Artsy things like landscapes or charcoal drawings, and when your guests ask about them act very casual like they've always been there.
Slip some French into the conversation where appropriate because you're just SO worldly.
Casually mention that you've been promoted, bought a house and are dating Johnny Depp.
Give anyone who doesn't believe you evils…
A perfectly prepared three course meal is the best way to show everyone how together you are.
And it really doesn't matter if it's all ordered in or if you have a chef hiding in your kitchen.
Finish dinner with mints. The height of sophistication!