These Couples Prove Why You Should Quit Your Job And Travel The World!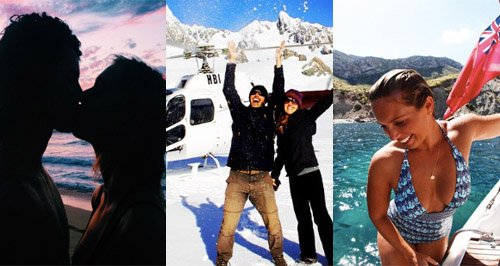 We take our hats off to these adventurous couples who were willing to risk everything to see what the world has to offer.
Settling into the New Year can always leave you feeling a little blue, partly to do with the idea of getting back into the rat race of everyday working life.
While most of us sit at work dreaming about sunnier climates without even giving it a second thought, these couples have gone all Christopher Columbus and ventured out to foreign shores.
Whether it meant remortgaging their house or sacrificing their dream wedding, these travellers prove that sometimes a risk pays off.
Can you believe that just seven years ago, this Canadian couple had full-time jobs, mortgages and a car in their native of Canada
Fast forward to 2015, and they've had a complete lifestyle makeover!
Now swimming with sharks in Mozambique, living in an Ashram shrine and trekking through the Himalya's are some of the activities they keep fans updated with on their travel blog Goats On The Road.
Offering up some words of inspiration, they told the Independent newspaper: "If you really want change, then just jump towards a world of freedom and adventure. Don't put it off another day. Once you take the plunge, there are always safety nets that appear to cushion your fall."
This gorgeous couple decided to quit their jobs and head for the high seas after making the choice to put their house up for sale and their wedding plans on hold to embark on a new life.
Charlie Smith and her fiancee, who goes by the name Captain, left behind everything they knew in favour of a thrill seeking ride on the seas after leaving their home of Jersey.
Despite only having limited sailing experience the couple took RYA Skipper and seas survival courses in order to prepare before making a 35.8 ft Dufour their home. So far they've made their way around the Mediterranean, France, Spain, Italy, Elba, Corsica, Sardinia and the Balearic Islands.
Jay Alvarez and Alexis Rene
Okay okay, so this may not be your average couple, but extreme sportsman Jay and model girlfriend Alexis are still MAJOR relationship/life goals.
The couple have racked up over 3 million followers on Instagram after posting pictures of their travels, with most of the pictures taken by Jay who is also a professional photographer.
We're not quite sure how they managed to fund their laid back lifestyle, but their travels have taken them across the globe, from their California base to Hawaii and Indonesia.
Mike and Anne Smith
Some of us are lucky if we get a honeymoon for two weeks let alone TWO YEARS! Not satirised with going to just one destination, New Yorkers Mike and Anne Smith decided to follow their dreams and travel the world over the course of 24 months.
In that time they visited six continents, 33 countries and 302 different places (without divorcing!) and all on a budget of £50 a day!
Anne told Daily Mail: "We had money saved, no kids, good health, and there is a lot of world to see - what better time to travel than now."
So how did they do it? The 32-year-old explained they saved around $12,000 on flights alone using mileage hacking tricks to help rack up 430,000 frequent flyer miles before they left.
She added: "Travelling around the world turned out to be less expensive than the rent on our apartment."
The couple are now back in the USA but claim their once in a lifetime completely changed their outlook on life and gave them the motivation to help other couples by starting up their business, HoneyTrek Trip Coach. The company hopes to inspire others to take gap years, sabbaticals and extended honeymoons.
While it may not be as simple as packing up your bags and leaving, these couples have definitely given us some food for thought. So if you're thinking about going on an adventure, maybe 2016 is the year to take a risk!