11 Reasons Your First Dates Are Bombing And How To Fix Them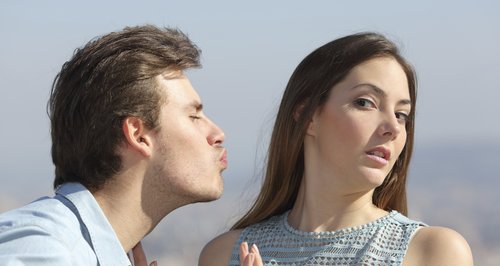 Whether you're making your initial foray into the complete unknown or reckon you're a bit of a dating pro, these tips of what NOT to do are sure to help you out in the daunting world of romance!
We thought we'd compile a list of the ultimate first date tips for those of you finding yourself unlucky in love:
1. Choose the location and match your clothes to the occasion
Turning up to a fast-food joint in a suit, heading to a Michelin star restaurant in a tracksuit... It's an obvious pointer but also such an obvious turn-off if you get it wrong!
2. DON'T be late
But, if you really can't help it, remember to call and apologise to say you'll be late!
3. Do not immediately start ordering drink after drink
We know it's daunting and a bit of dutch courage and be a big help. But try not to get drunk at ALL COSTS… unless you're getting drunk together. Remember people - stay in control and stay charming.
4. Remember those basic table manners
Keep your mouth closed whilst you eat. No talking with that full mouth of yours. Napkins. You know all this but do TRY to remember it!
5. Do not talk about yourself, your ex, your new ford fiesta etc.
Unless you are asked about any of them. Make sure that you focus on your date. Get to know them - ask more questions than you're asked and avoid the ex topic at all costs!
6. Do not forget the name of your date
Be very careful.
7. Put your phone away
We're in an age where everyone is addicted to the phones. But for the next couple of hours you need to put that lifeline away and make sure that your focus is on the person you're with. Hopefully they'll have the good sense to do the same!
8. Do not start checking someone else out
You have come on a date with this person, give them your undivided attention. Believe us - they'll notice and appreciate it.
9. Be polite to everyone around you
Even if your waiter is on his first shift, be patient and polite to him. It shows that you'll be just the same to everyone in your life, including your new love-interest.
10. Do not argue about the bill
Guys, by all means offer to pay if you'd like to. It's a very traditional gentlemanly thing to do, but do not be surprised if she insists that you split it - we live in the 21st century after all, and going Dutch is a case of pride for many. Either way, just don't argue about the outcome, be easy-going and content with whatever.
11. Offer a walk home
Show that you are enjoying the date and want it to continue. Offer to walk your date back to her home or call her a cab. Show you are interested in making sure she gets home safe. This is no guarantee of ANYTHING post-date. It is simply a way to extend the time spent with the other person.
Most of these are natural for most of us. But just be aware of them because even breaking even ONE of these dating rules could be enough of a turn-off to prevent a second date.
Now you are ready, go forth and date successfully, friends!
Fancy giving your wardrobe a fabulous update? HelloYou Dating is giving you the chance to win a luxury shopping experience, including £500 worth of vouchers to spend and the VIP treatment courtesy of a personal shopper. Discover more about this great competition here.