These 9 Hilariously Real Tweets About Dating Have Us In Stitches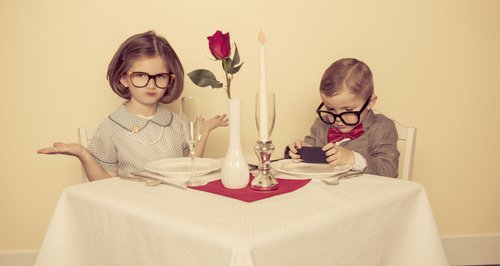 We challenge you to read these eye-wateringly funny Tweets and not laugh. Let's face it, sometimes we'd rather just stay single...
Love means never having to say you're sorry:
Love means never having to say you're sorry but always doing it anyway bc you're terrified they'll leave you.

— Hallie Cantor (@halliecantor) October 30, 2015
This Tweet which is just plain "Ewww!"
At college this girl was sucking on her boyfriends ear for a solid 2 minutes #RelationshipGoals #Cringe

— Soph (@Sophie_Lien) January 30, 2015
The classic "It's not me, it's YOU line"
Woman can't get a date: "What's wrong with me?" Man can't get a date: "What's wrong with women?"

— Rachel Weeks (@rachelgweeks) December 30, 2015
TRUTH:
why would you "#relationshipgoals" your own relationship #cringe

— gracie (@graciepowell89) October 19, 2015
Reminding all the guys out there to keep it classy:
Don't take her through the drive thru on a date. You take her inside that Burger King and get her a crown.

— Wicked Jen (@wickedsuga) October 1, 2015
Oh blimey...we all might as well just give up now!
Getting depressed because you won't have someone to kiss on New Years Eve is the warm up for being alone on Valentines Day.

— caprice crane (@capricecrane) December 30, 2015
The ones who always keep us laughing:
RELATIONSHIP STATUS: A fat dude walking his daughter just gave me the thumbs up.

— CORINNE FISHER (@PhilanthropyGal) June 13, 2015
And this one...
I once dated an apostrophe. Too possessive.

— Aparna Nancherla (@aparnapkin) November 12, 2015
Those guys who just take it that step too far...
Boys putting their girlfriends as there profile pictures #cringe #relationshipgoals

— Megan Davies (@dav_megan) July 28, 2015
Hmmm... maybe we're better off single. Who's with us?
Amen Audrey!