Glow In The Dark Tattoos Are Officially A Thing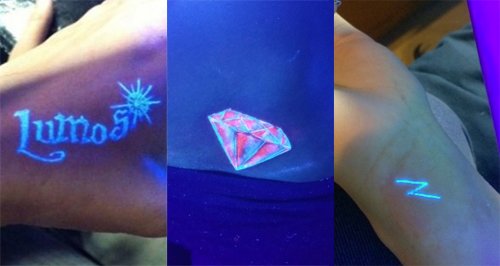 Want to get the most rave-friendly tattoo known to man? Well head down to your local tattoo parlour and ask for one of these blacklight or UV designs. You'll shine in no time...
If you'd love a tattoo but you're a tad terrified about regretting your decision, this could be a solution.
The latest craze on Instagram is to use UV ink, meaning a tattoo is barely perceptible in natural light but shines under a backlight - the sort you find at nightclubs and concert venues.
We'd recommend speaking to your local tattoo artist about the whole thing first, but if you're determined to glow here are some great designs to spark your imagination...
Decorate your hands
Instead of wearing rings just have a couple tattooed on. Job done!


Like lightning
For something a little bit more subtle try this bolt design on your inner wrist or ankle.
Harry Potter takeover
Instagram has gone wild for glowing Harry Potter tattoos, especially around the theme of the Marauders Map. Check out this brilliant example...
A little bit more magic…
Or have a little spell inked on your wrist, like this brilliant Lumos design...
Give your hands a makeover
We love this henna art-inspired design…imagine it when the lights go down at a music festival!
Star signs
For all the horoscope fans out there...
Shine bright like a diamond
UV ink doesn't just come in blue, it's also available in varying pink and red shades. What do you make of this multi-colour diamond design?
For the Disney fans!
Want to declare your love for Disney but don't want the office taking the Mickey (pun definitely intended!), then this is for you.
What do you think? Would you consider a UV blacklight tattoo?