Forget Hair Of The Dog! The Best Ways To Hide Your Hangover At Work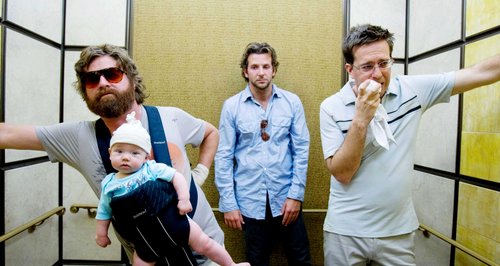 Feeling a little bit ropey after a heavy night? If you've ploughed through a full English breakfast and you're still feeling the effects of one too many wines, it's time to start masking your symptoms. Here are the best super-sleuth techniques to hide your pain until 5.30pm…
We've all been there – a hangover in the office is about as fun as being told off by your boss. But with Christmas just around the corner we're all bound to over indulge and end up with that nauseous feeling when the alarm goes off the next day. Tackle your hangover head-on with these tips and tricks…
Don't skip the shower
Hangovers are horrendous, but you're going to need a shower if you're going to hide it in the office. Alcohol can seep out through your pores, giving you that oh-so-unattractive brewery smell. Avoid it with some great shower gel, especially one with a burst of mint or tea tree to wake you up.
Buy some Berocca
Even if a fry up doesn't help, don't skip an energy drink or some Berocca. The vitamins and electrolytes should help to rehydrate your system and get rid of that pounding headache.
Use super strong mouthwash
After a heavy night of drinking your mouth will feel like the backside of a badger. Keep some heavy-duty mouthwash in your office drawer and use it when you need a menthol pick-me-up. We promise it will make you feel better (and your boss won't be able to smell the leftover gin on your breath).
Take off last night's makeup (and put on new)
The idea of doing anything other than hovering by the loo may fill you with dread, but nothing hides a hangover like cleaning off last night's debris and presenting a fresh face to the world. Try a brightening moisturizer to give your skin a little lift too.
The first rule of a hangover is…
Don't talk about your hangover! Unless all your work colleagues were at the same party and feel equally terrible, we'd suggest ignoring it completely and acting normal. Of course, if you throw up in the office you're on your own!
Try eye drops
Too much alcohol leads to dry, red eyes, which is a telltale sign you've been up to no good. Minimise it with some eye drops from your local pharmacy…
Practice your 'I'm listening face'
Concentrating with a hangover will be your ultimate challenge, especially at the 2pm meeting when the tiredness kicks in. Perfect your 'listening face', tilt your head convincingly to the side and avoid falling asleep with your eyes open…it will be over soon!
Most importantly…hold it together
Self-inflicted suffering is the worst, but now you're in this mess you've got no choice by to follow it through. Keep your chin up, drink some water and bring out your inner superwoman!