Secret Hair Tattoos Are OFFICIALLY A Thing...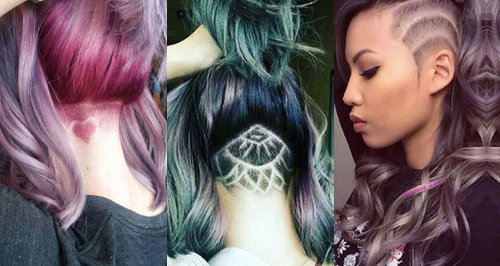 Hipsters are always looking for the next trend, and now a new hairstyle, which sees girls shaving patterns into their hair, has been taking the internet by storm. Will you be rocking the look?
A bold new trend has been taking over the internet! Thanks to Instagram girls are now taking clippers to their heads to create shaved patterns into their scalps.
The rebellious look - which has been championed by the likes of Cara Delevingne - is only exposed when the hair is held up above the nape of the neck, making it more versatile and less permanent than an actual inking.
Nicknamed a #HairTattoo the designs are normally worn with topknot hairstyles but can easily be concealed when letting your hair down, giving a little bit of edge for those who secretly want to rebel.
The best part about the new trend is that it doesn't need ink in order to create the colourful designs, as a little hair dye does the trick!
With plenty of styles to opt for from simple and subtle heart shapes to crazily complex patterns, the options are endless.
There's no word yet on what they look like once they start to grow out, but at least you can disguise the awkward in between phase with your tresses!
Gorgeous! Will you be letting your wild side out and trying this new trend?