Fed Up Husband Comes Up GENIUS Solution To Wife's Bed Hogging.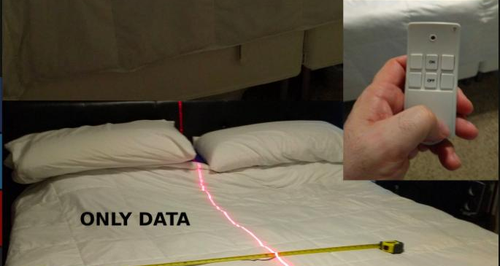 It's probably the BIGGEST issue for most married couples... Who's taking over most of the bed? Well, one husband's clever hack has gone viral....
Sometimes sleeping in the same bed as your spouse isn't as harmonious as you'd think!
If you've ever rolled over only to find that your partner is already hogging half the bed, or worse - nicking most of the duvet, then you probably need this solution.
One husband has managed to settle the debate over who takes up more of the bed by setting up a laser down the middle!
Jon Nagel, of Dallas, Texas, posted this hilarious photo to Reddit where it's now going viral with nearly 1 million views. The caption reads, "In our house there is no debate, ONLY DATA."
As a cheeky stunt, he measured the mattress and mounted a remote-controlled TV to a laser on the wall which draws the line down the middle.
View post on imgur.com
John insists the prank is all in good spirits, as he explained to ABC News: "The laser was inspired by playful teasing, no spite. We both kept saying the other was in the middle."
The crafty husband also claims there is no winning or losing the argument, and it's all just for the LOLs.
"I really love Jon's nerdery," Michelle said of her husband, who is also a data scientist in the video game industry. "While some couples find this to be a point of vicious tension, worst case in our house is a playful pillow fight or over-exaggerated snuggles until someone gets back to their side."
Well, we suspect the that Michelle will be taking up much more of the bed as she also revealed she's pregnant!
Aww! We're sure he won't mind her taking an extra pillow or two in that case!