Plans Of Eating Ice-Cream This Summer Could Be RUINED.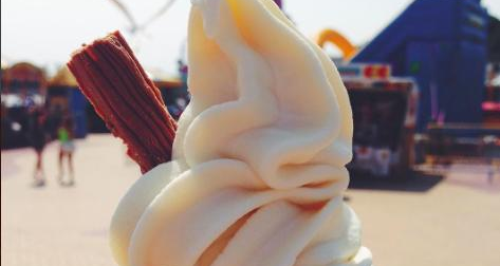 Don't panic, but...your favourite summer treat may not make it to your freezers this year.
Ice-cream and summer go hand in hand.
There's nothing that kicks off the warmer seasons better than tucking into your very first ice-cream cone for the year, or even seeing it melt down your arm leaving you with no choice but to lick it off. Right?
Well, don't be surprised if that 99 Flake you cherish has a hefty price tag when you chase down your local ice-cream van this summer, as there is a shortage of Vanilla, the key ingredient in the classic dessert.
According to the Guardian, Madagascar is experiencing a shortage of the plant which is pushing up the price of Vanilla extract, meaning ice-creams along with fizzy drinks, cakes and sweets could cost us an arm and a leg!
It's likely that ice-cream vendors and manufacturers will have to raise the price of their products to compensate for the shortage, or worse yet swap to a cheaper synthetic version called Vanillin. UGH! Obviously this won't taste this same will it?
Oh and just incase you thought you were were getting out easy by opting for a different flavour, like chocolate or mint chocolate chip, then think again. Vanilla is STILL used in many of these flavours so you're doomed too!
So just to deliver the blow one last time, two things will happen.
Ice cream will either cost a fortune or won't taste quite as delicious. SIGH.
Well look on the brightside, at least that bikini body won't be at risk!