This Bride Was Left At The Altar...But She's Having The Best Honeymoon EVER.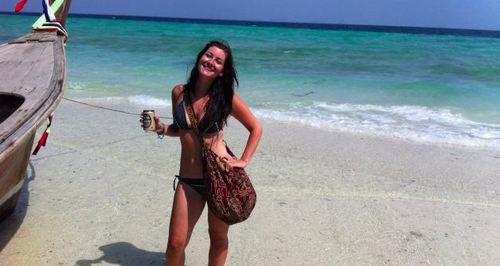 Being stood up at the altar is undoubtedly the worst thing that could ever happen to a bride, but Katy Collins managed to turn her heartbreak into the trip of a lifetime.
Katy Collins was left heartbroken and alone after her fiancee broke up with her just weeks before her dream wedding.
While this would be a traumatic experience for any blushing bride-to-be, Katy decided to turn the negative into a positive by booking a one-way ticket around the world.
Instead of jetting off into sunset for a honeymoon with her husband, the former PR girl quit her job and sold her house before setting off on a solo journey that has taken her to Thailand, Nepal, Brazil and Argentina to name a few.
After setting up a blog, NotWedOrDead to document her travels, Katy poured all her experiences into several books and has now achieved her dream of being a published author.
"Everyone did think I was a little mad, especially as I'd never travelled anywhere by myself before, but it just felt right," Katy told Manchester Evening News from her current base in France.
"I needed the time away from everything and everyone I knew to find myself, but it wasn't as cheesy as that."
It's safe to say Katy hasn't looked back since, and on what would be her third anniversary she signed a three book deal with Carina UK, part of Harper Collins.
Her blog now serves as a remedy for others going through heartbreak, as she explained: "I received messages from other newly-single men and women who said they read my blog as an inspiration."
And her lasting advice for those who've found themselves down on love?
"Just because you've been dumped it doesn't mean you have to listen to bad power anthems and devour ice-cream!" she insists. "You can use this as a catalyst for something much bigger and better."
Amen to that!