Fancy Fine Dining? KFC Launches Romantic Valentine's Meals For Couples.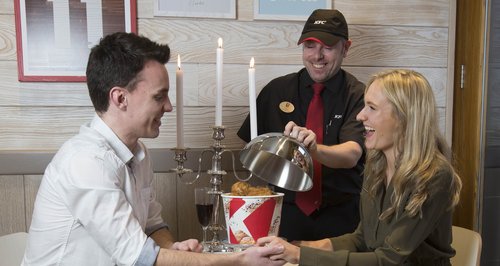 What would you say if your partner suggested a romantic meal at KFC for Valentine's Day? A local chain promises a finger lickin' good experience for fried chicken loving couples this weekend.
It's Valentine's Day. Your partner says "Get dressed, we're going out", where do you think they're taking you?
Well, the first thought that comes to mind wouldn't be a sit down meal for two at your local KFC that's for sure.
As Valentine's Day draws closer, it's safe to say that there's a lot of expectation about how to celebrate, but a chain of KFC in Preston have decided to take an unconventional approach by offering a "fine-dining" service.
The meal for two promises a finger lickin' good experience for couples who are passionate about fried chicken.
If you're worried that heading down to the fast-food joint might kill the romantic vibes on the big day, they've got this covered by offering a more ambient setting than usual.
Tables decorated with linen napkins, flowers and a silver candelabra will be included, plus couples will also have their very own "sommelier" to advise them on soft drinks orders.
"A spicy zinger burger is all you need for love at first bite and our table is perfect for any hot date this Valentine's Day," explains regional KFC manager Gary Mather.
"Our date night table offers diners the finest window seat with an exclusive view of Fishergate High Street, a perfect setting for our finger lickin' good chicken."
HILARIOUS!
It's claimed the dining option will appeal to couples who don't want to make a fuss over Valentine's as research shows most people prefer a low-key dinner over a slap-up meal.
So would you be annoyed if your partner treated you to KFC? Or would you chow down a bucket of chicken quicker than you could say 'I Love You'?