This Genius Way To Fold Clothes Will Change Your Life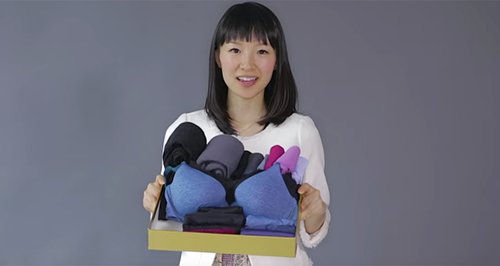 Just when you thought you knew all you needed to know about folding your clothes, a lady named Marie Kondo is here to school you.
Have you lost your favourite January jumper to your chest of drawers? Are you sick of folding your kids' clothes only for them to get creased again? Japanese home-organizing guru, Marie Kondo, is here to help!
In case you've been living under a rock (or a massive pile of ironing) Marie Kondo, 31, from Tokyo, has taken the world by storm with her tidying technique and 'KonMari' home sprucing method (a title based on her nickname).
Her first book, The Life-Changing Magic Of Tidying, was a bestseller in five continents, selling five million copies, and gaining her a place on TIME Magazine's list of the '100 Most Influential People in the World'.
Yep, this Japanese tidying guru packs everything from bras and knickers to T-shirts and jumpers into a tiny space.
"But how does she do it?" We hear you cry. Well, arguably the most revolutionary Kondo tidying tool, is her folding technique. And we're all OBSESSED.
The aim of all the folding techniques is to store your clothes vertically rather than horizontally, allowing you to access that one top you haven't seen for years easier than when it was at the bottom of the pile.
Genius!