70 Quid For The Cinema - What Happened To Value For Money?!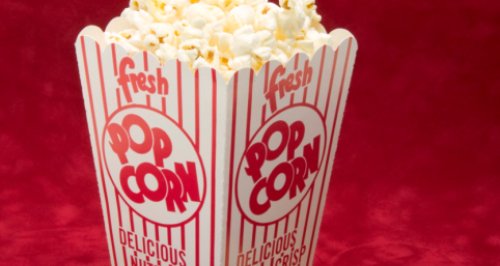 When did a trip to the movies end up costing an arm and a leg? Well, it isn't just cinema tickets that have risen WAY above the rate of inflation...
One punter who knows exactly what the full cost of a family outing is and definitely isn't impressed is Dean McQuade.
The working father has received thousands of messages of support from like-minded strangers after he posted a message to Vue's official Facebook page, complaining about the price of his family trip to one of their cinemas over the weekend.
I'm no penny pincher & after been at work all week, when it gets to the weekend I want to do something with my kids but...

Posted by Dean Mcquade on Saturday, 2 April 2016
The peeved off papa points to a measly handful of Nachos, priced at a painful £5.50 and explains how dearly the outing has cost him on his day off.
But with eye-watering prices like those, it's no surprise the disgruntled dad feels the need for a public bargy and judging by the comments it's invoked, he's not the only one to feel annoyed...
It's certainly hard to believe the average cost of a film ticket was just 45p back in 1974!
And it's not just fun family outings that cost a bomb nowadays.
Here are some other essentials that BALLOONED in the last 40 years.
The very first British 'Chippy' opened it's doors in Mossley, Lancashire in the 1850s and can you believe how prices have changed?!
Back in 1970 a bag of greasy, yellow goodness would have only set you back 25p, leaping to 83p in the 1980s, £1.68 in the 1990s and £2.43 in the 2000s.
Currently a brown paper package full of battered fish and friends will cost you about £5,00 in London and about £3.60 elsewhere in the UK.
Source: Baines & Ernst
Meanwhile, don't even get us started on the cost of stamps:
For years the price of a stamp lagged behind inflation, but new skyrocketing increases mean posting letters to our friends and family (and whoever else in your address book) have seen those good old days well and truly disappear!
From a lowly 3p in 1974, to 62p for a first class stamp today.
And how about that coffee that we just can't get through though day without...Eeeek! We almost fell off our chair when we discovered that the take-away coffee market trebled in value in the past decade from £21billion to a WHOPPING £63billion!
In the last six year alone, a coffee has gone from an average price of £1.20 to £2.20. Is nothing sacred?!
Meanwhile the Telegraph reports that the cost of a pint has increased 2000% over the past 4 decades. That's the same as a draft of lager costing 14p in 1973, but it'll burn a hole in your pocket to the tune of £3 nowadays.
What about all your footie fans out there?
Well according to BBC Sport the priciest Premiere League match day ticket is around £97 today.
It seems that those of us who are worst off are being hit hardest too! The site reports that the cheapest season ticket money can buy has risen by 16% to £513.95 whilst the most expensive has only risen 9% to £886.21. Oof!
But happily, its not all doom and gloom as food stuffs such as carrots, bread, butter, milk and apples have risen slower than the average wage. Well thank goodness for that then!