10 Desperate Thoughts All Parents Have Had During School Holidays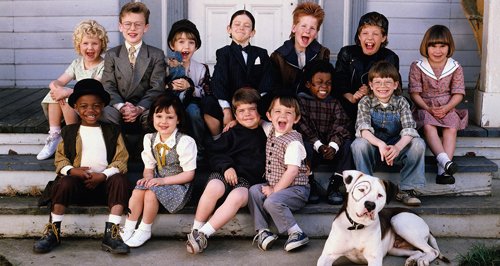 They creep up on you and then BANG it's time to keep the kids entertained for two weeks! Here are a few thoughts all rushed-off-their-feet parents have had more than once...

We've all been there, desperately grappling to keep the kids amused when the weather is questionable and that one remaining wax crayon has snapped.
You may think you're suffering alone while all the other parents enjoy blissful time off with their brood...we promise you that's not the case!
Here are a few wild, crazy thoughts all parents have had during the school holidays...
How am I going to keep up with them?
They're desperate for Haribo sweets, they're running around like headless chickens, climbing up the sofa and generally speeding like Roadrunner after a can of red bull. You'll easily be in bed by 9pm!
Will EVERY item of furniture I own be broken by the end of this?
Thank heavens for plastic plates, but what about all your other valuables that aren't made of plastic? Unless you lock those precious items away you'll soon find broken trinkets all over the place. The same goes for your lipstick and that string of grandma's pearls. You have been warned!
Do we have anything to do if it rains?
You can never rely on British weather, so if you're anything like us you're panic-buying arts and crafts supplies, checking all the board games are in order and stocking up the Sky+ box with as many kids movies as you can find.
Will they kill each other before we're through?
If you've got more than one child off on their school holidays you're probably more concerned about them pinching, pushing and provoking each other than what they will do to your frazzled nerves. Put a contingency plan in place in case they need to be kept apart at all costs!
If I beg can my parents look after them for one blissful day?
THIS IS THE DREAM! Just think of all the life admin you can achieve in one solid day to yourself, or you can get back to work and enjoy the company of adults. Whatever you choose to do, make it count.
Could this be my first lie-in in years?
You're normally up at the crack of dawn to get them ready for school, but if they're not needed for a maths lesson at 9am does this mean you can sleep? Don't bet on it, but we like your optimism.
If I suggest painting does that mean my kitchen will be given a makeover?
Beware of the poster paints - they may be washable and child-safe but they will also do a number on your cashmere jumper, new jeans and all your kitchen cabinets. Instead of 'Location, Location, Location' it should be 'preparation, preparation, preparation' when it comes to school breaks.
Why are they being so wonderful? Is this a trick?
This is perhaps the trickiest question of all...what if they are being as good as gold, playing nicely together, politely asking for snacks, picking up after themselves and generally being angels. Well, what are you doing here? Go off and enjoy yourself!
Let's face it, we all know the holidays are tough, but would you really have it any other way?!
Want to keep the kids distracted and possibly win an epic family adventure this Easter? Use our amazing 'Harry Potter', 'Inside Out' and 'Jurassic World'-inspired Easter egg design tool with Sky Movies and you could be in with a chance. Click here to give it a try!!
Do you love or loathe the school holidays?