Boozy Santas Take To The Streets For Santa Con In Hilarious Bar Crawl!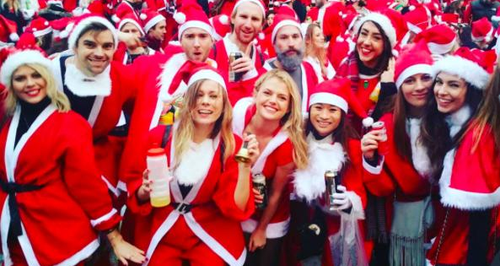 It looks as though Santa is on his own naughty list this year as hundreds of people dressed as St.Nicholas took to the streets of London to participate in a 'Merry Marathon.'
At first glance it looks like a scene from any Christmas film, however a closer look will tell you that all is not as it seems.
Santa and all his little helpers were more than a little tipsy during a hilarious bar crawl in the UK's capital, which saw large crowds of elves, reindeers and other festive characters party in the streets.
Just some of the comical sights saw Santa's sharing a cheeky kiss, swigging a bottle of booze or hopping on board a Boris bike and riding through city.
The event, which also took place in New York, is a non-profit parade with news of the gathering spreading virally through social media and word of mouth.
Attendees were only told where to meet the week prior, and it's thought over 1,000 joined in the festivities from midday well into the late evening.
Well 'tis the season to be jolly! We're a bit jealous we missed out on the fun!