WATCH: This School's Chilling CCTV Captured A Real Ghost Inside After Hours
12 October 2017, 12:11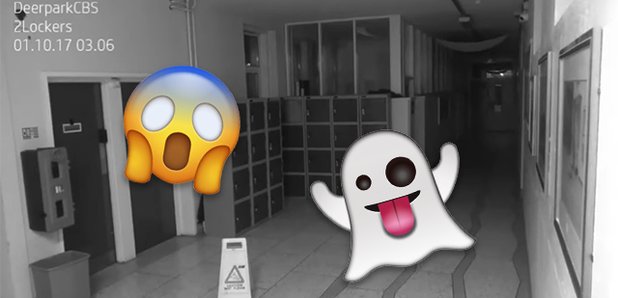 This schools CCTV cameras accidentally captured a video of a ghost and it will give you chills.
It's October, the spookiest month of the year!
Cinemas are filled with horror films, shops are filled with gruesome fancy dress costumes and spooky food and everyone is getting ready for the Halloween festivities.
With the timing you might think this video captured on Deerpark Catholic Boys School in Cork's CCTV was a hoax, but the headmaster claims it is nothing of the sort...
The video captured in the early hours of the morning shows some doors at the far end of the school corridor creek open on their own before the lockers start rattling of their own accord.
Things then escalate further when the locker doors open totally, papers fly out and the wet floor sign in the centre of the image gets blown apart all with NOBODY in sight.
The fact that the video was captured at 3am on the 1st October makes it EXTRA spooky.
The headmaster of the school Aaron Wolfe is convinced it can't be a hoax due to the schools motion sensors making it impossible for anyone to sneak around at that time of night.
He told UNILAD: "If it's a prank we don't know how it was done. Motion sensors were set off at this time, that's how it was caught"
And its not the first time the school has been rattled with rumours of the supernatural as Wolfe explained "our caretaker has worked in the school for over 30 years he recalls many stories of 'paranormal activity'".
He continued: "For example on one occasion the school was hosting an exotic bird show, and the birds arrived the day before, because the organizers were worried that someone might break in and steal the birds, someone had to stay overnight. That person left the school in the middle of the night – they refused to stay any longer as they said that they heard 'the last call' being played on a trumpet – of course this could have just been the wind."
Well what do you expect from one of the oldest schools in a centuries old city!