Watch Sia Take Off Over-The-Face Wig For The First Time On Television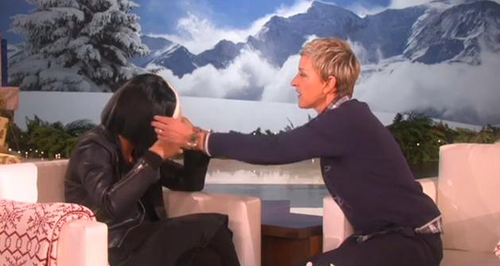 The very private singer, Sia reveals why she hides her face as Ellen DeGeneres tries to convince her to ditch the wig...
In case you've been living under a rock (or a wig), the singer Sia is well-known for protecting her privacy by obscuring most of her face behind a variety of hair pieces.
The pop singer began wearing elaborate props and face-obscuring wigs to cover her face in public when she gained international recognition years ago.
Talking to Ellen on the Ellen DEGeneres show, the 39-year-old singer said: "Well it's just so that I can go to Target and buy a hose if I want to. Or if I find I'm in need of a restroom, I can go in the side of the road, no one would be following me with a camera trying to get a shot."
"You're beautiful," she said. "Are you going to do it?"
Sia confirmed she will reveal her face in public one day, but insisted she is building "up to it".
She added: "I'll do it, I'm just working up to it, you know."
Watch what happened here...
Eventually, the joke turned into Ellen declaring Sia was going to take her wig off and reveal her face. After several attempts to unpin the wig, holiday music began and it all turned out to be a ploy to transition into Ellen's Christmas giveaway.
But for those of you disappointed by the duo's prank, a simple Google image search will show you the singer's ACTUAL face pre-international-fame...