This Dog Has Braces And We Can't Cope With The Cuteness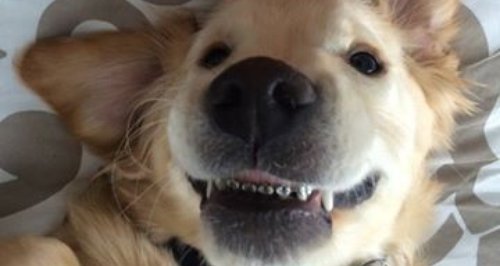 Is this the cutest brace-face you've ever seen?
Wesley, the six-month-old golden retriever puppy from Spring Lake, Michigan has turned into a bit of a celebrity sensation since his toothy grin has made it on to the internet.
The pup is getting his nashers straightened because of a dental problem. His owner's father - Molly Moore's dad Jim, who is a veterinarian - has fitted the braces for a few weeks, until the problem is fixed.
Harborfront Hospital for Animals, who posted the photo to their Facebook page, have said: "We are overwhelmed by the outpouring of care and interest from around the nation in our buddy 'Wesley.'
"Dental care is just as important for the pets we love as it is for us and we are glad that his cute "brace face" brought such interest.
"He is happily enjoying some of the benefits of his celebrity (although he already had ample hugs, kisses and belly rubs)."
Braces on dogs are totally a thing apparently! If you have any doggy dental questions, Harborfront Hospital for Animals are more that happy to help!