Twitter Is Loving This Pranksters Fake Optician's Letter 'From The NHS'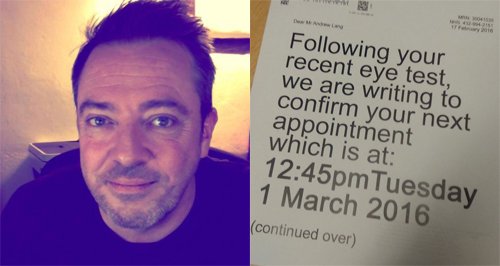 Time to go to Specsavers? A graphic designer has made Twitter LOL with his take on slightly insensitive NHS opticians' letters..
This man's fake opticians letter jokingly sent from and NHS hospital has been shared more than 47,000 times on Twitter.
Graphic designer Andy Lang, who goes by the username @HRH_Duke_of_Url on Twitter, mocked-up this brilliantly witty letter after seeing something similar sent to a colleague.
Needless to say, I don't think it's good news. pic.twitter.com/LuGppvSycJ

— Andy Lang (@HRH_Duke_of_Url) February 22, 2016
He captioned the letter and its eye-popping 60pt font with "Needless to say, I don't think it's good news".
Can you imagine if this was ACTUALLY real?
We'd be on the first bus to Specsavers if we got this from the doctor's office!
Lang told The Huffington Post UK: "It is a fake. But very much based on a real letter that a colleague received, which was from the local NHS eye department. It was printed with a larger than normal font which made us chuckle."
He added: "By virtue of the massively over-sized text, you can only draw one dreadful conclusion."
Of course, many Twitter commenters thought the letter was real – but either way the joke works, right?!
Also, ladies, Andy Lang's Twitter bio says "currently looking for love and a new pair of glasses", so perhaps there's a meet-cute in a local opticians coming your way if you live in the Winchester area!
We'd be mortified to receive something like this in the post! What do you reckon?